Ensuring all of our clients' properties are compliant
A Residential Energy Performance Certificate (EPC) measures the energy efficiency of a property using a rating from A (most efficient) to G (least efficient). The EPC also contains typical energy costs and recommendations about how to reduce energy use and save money.
If you are considering selling or letting your property then you need to order an EPC prior to marketing your property and make it available to any interested tenant at the earliest opportunity.
It it now unlawful to grant or renew a tenancy or lease if you have an EPC rating of an F or G.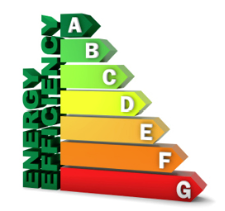 There are, however, some exemptions which apply including:
places of worship
temporary buildings that will be used for less than 2 years
stand-alone non-residential buildings with total floor space of less than 50 square metres
industrial sites, workshops and non-residential agricultural buildings that don't use a lot of energy
some buildings that are due to be demolished
residential buildings that are rented out for less than 4 months a year
buildings officially protected as part of a designated environment or because of special architectural or historic merit
Robinson & Hall can organise an EPC on your behalf when you use us to let your property. If your EPC is an F or G then we are able to recommend changes and project manage applicable works to increase your EPC rating to avoid any void periods. Please contact us to arrange an appointment.