A commercial client approached us in summer 2019 for advice as their current tenant, who had been in occupation for over 35 years, had just terminated their lease. The property was poorly maintained and the tenant had just walked away from the building leaving it in an untidy state, including a cellar full of documents. The rear of the property was particularly neglected with the kitchen roof collapsing under the weight of bramble growth and an outbreak of Japanese Knotweed in the garden.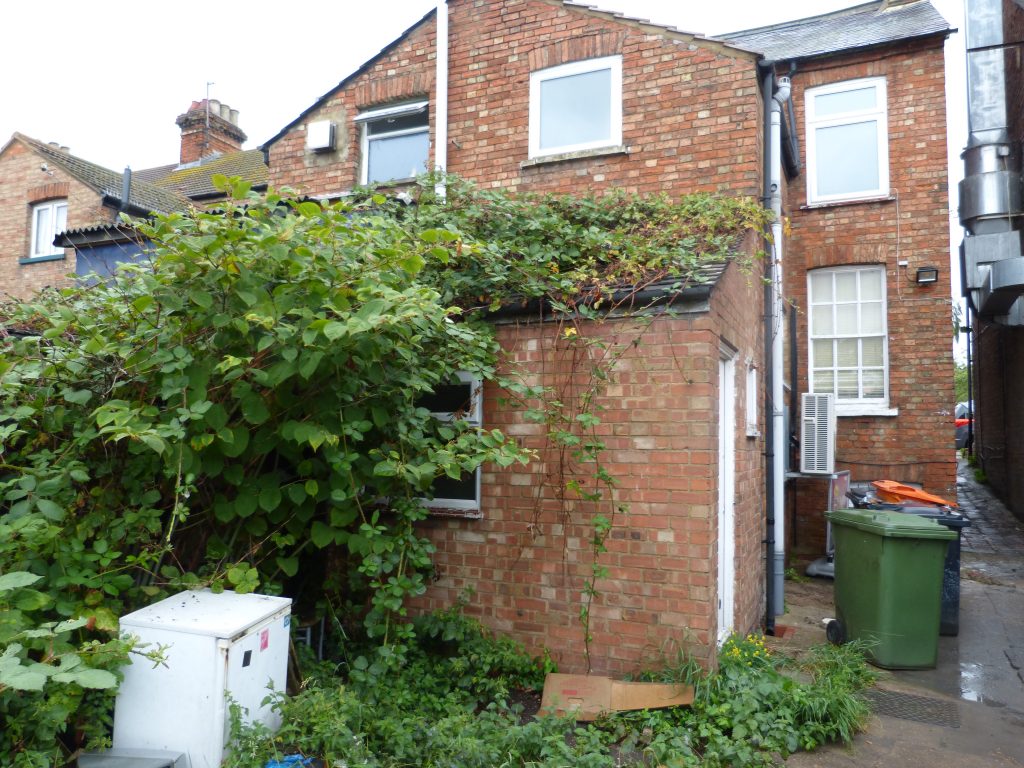 Firstly, our building surveyors were commissioned to prepare a Schedule of Dilapidations for serving on the tenant. Our commercial department sought to relet the property, however their view was that reletting was unlikely without major work. This proved to be true with prospective tenants stating that they were interested in the property but not in the condition it had been left in.
Our building surveyors then prepared a scheme of repair and employed a local builder to carry out the necessary works. In addition, the client was advised to invest in improving the property, particularly the thermal performance of the building to achieve an acceptable Energy Performance Certificate rating. Specialists were also engaged to eradicate the Japanese Knotweed outbreak.
Following the main works, which only took three months, our commercial department then sought to relet the property. After a short period of marketing, in which prospective tenant interest was high, we relet the property despite the effects of the Coronavirus pandemic. The ground floor shop and first floor offices have been occupied since July with an increased rental income reflecting the improvements made.
Having the building work done proved that the landlord had suffered a loss and this was reclaimed from the tenant. Following further negotiations with the previous tenant, a settlement agreement for rectifying the dilapidations was reached.
Our client is extremely pleased with the outcome in having let the property to two new tenants at a time of economic uncertainty and the property has been returned to a good condition. It also proved that a landlord willing to invest modest additional funds in improvements, such as roof space insulation, replacement of some timber windows and installation of air conditioning to first floor rooms, is beneficial in making a building more desirable to tenants.
The building is now fully compliant with Minimum Energy Efficiency Standards, with both suites achieving a D rating on their Energy Performance Certificate. Previously, the first floor accommodation had a poor F rating.
Stuart Brown, Associate and Chartered Building Surveyor at Robinson & Hall, provided dilapidation and building advice including overseeing the renovation work. He comments that "it was beneficial working closely with Tessa Smith, Commercial Surveyor at Robinson & Hall, to achieve a building suitable and attractive for the rental market, which was reflected in the prompt reletting of the building."
For further information or advice on commercial dilapidations and refurbishments, please contact Stuart Brown.