Our Architecture and Building Surveying team are experts in providing practical and dynamic advice to clients on all manner of projects, from small domestic refurbishments to multimillion pound new build commercial premises.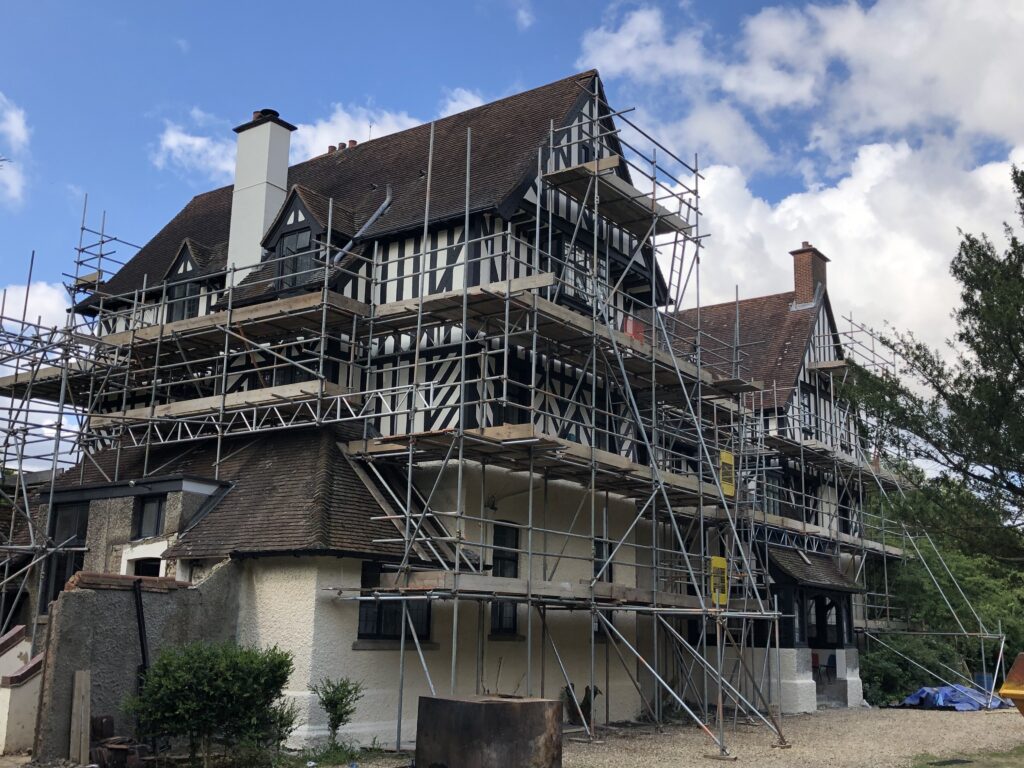 We are often involved in a scheme from inception with the preparation of a feasibility study or drawings prepared for a pre-application planning enquiry, where appropriate.
Why should I use Robinson & Hall?
Our Royal Town Planning Institute (RTPI) planning specialists and Royal Institution of Chartered Surveyors (RICS) building surveyors work in harmony to produce the full package of drawings and application documents. This provides a combined approach based on our knowledge of planning policies, statutory requirements, construction, specification and heritage experience.
When do I need to employ a project manager?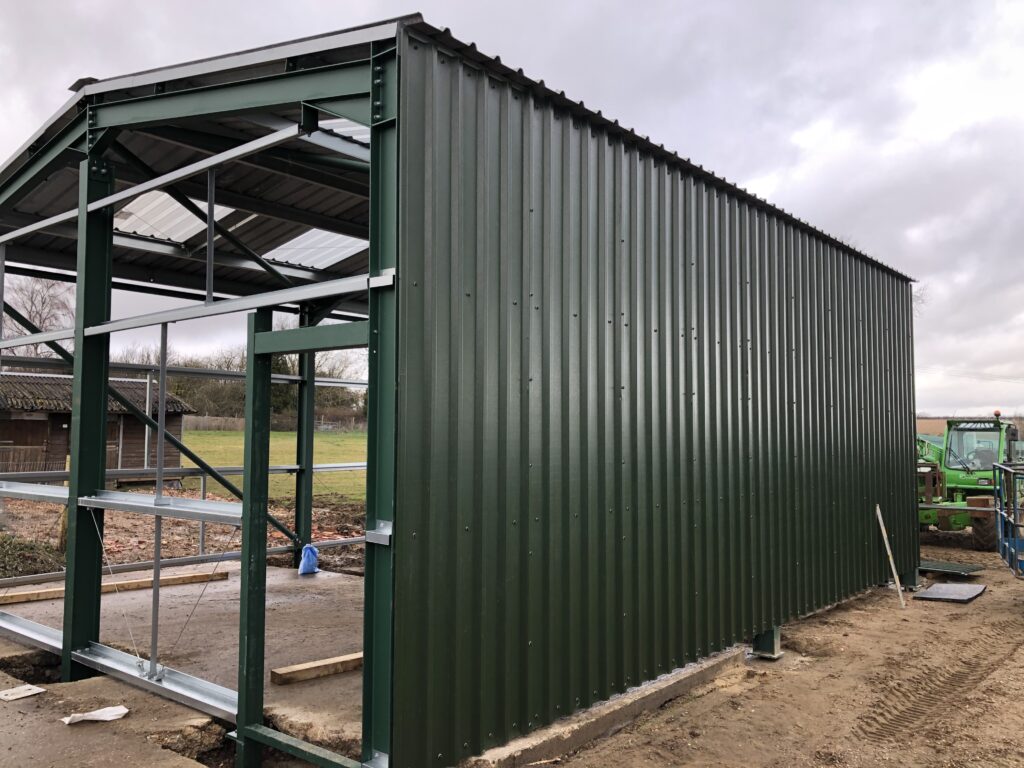 The benefit of our involvement at an early stage is in providing realistic budget costs and practical construction experience before proceeding with statutory applications. This ensures that the design is practical for its intended use, together with detailing and designing structures that are efficient; both for construction and the end user, covering all health and safety risks and total lifespan maintenance.
Whilst it's ideal to be involved from the outset our Chartered Building Surveyors are also able to advise clients once a planning consent has been obtained or even once the construction process has been commenced.
What advice do you offer clients before considering building works?
Our advice when considering a project at the outset is to have detailed plans and specifications agreed and documented in writing. We often see enquiries, particularly from domestic clients, once they have experienced construction problems when there is a lack of detailed documentation. We advise to have a written formal contract to avoid ambiguities.
What does your project management service involve?
Our project management service is bespoke to the client's requirements to cater for domestic and commercial, agricultural buildings or even civil works. Our ethos is being involved in the design, planning and construction phase to see that the client's objectives are met and secondly that the project management phase is detailed and managed to avoid miscommunication.
Our project management service will generally include:
The preparation of detailed working drawings (these are used to submit and discharge the requirement for statutory building regulation approval)
Detailed specification of the works (for clarity this is a blow by blow description) detailing the materials, workmanship and works to be included within the contractor's tender
Detailed drawings and specification to enable competitive tenders to be obtained
Checking and analysing competitive tenders and producing a tender report with recommendations
Once clients have chosen which contractor to instruct, we will then arrange for an appropriate building works contract with suitable terms to be prepared and signed by both parties. The contract sets out the terms and formalises the contractual procedures. If there should then be a construction problem, the contract sets out the procedure for remedying any issues.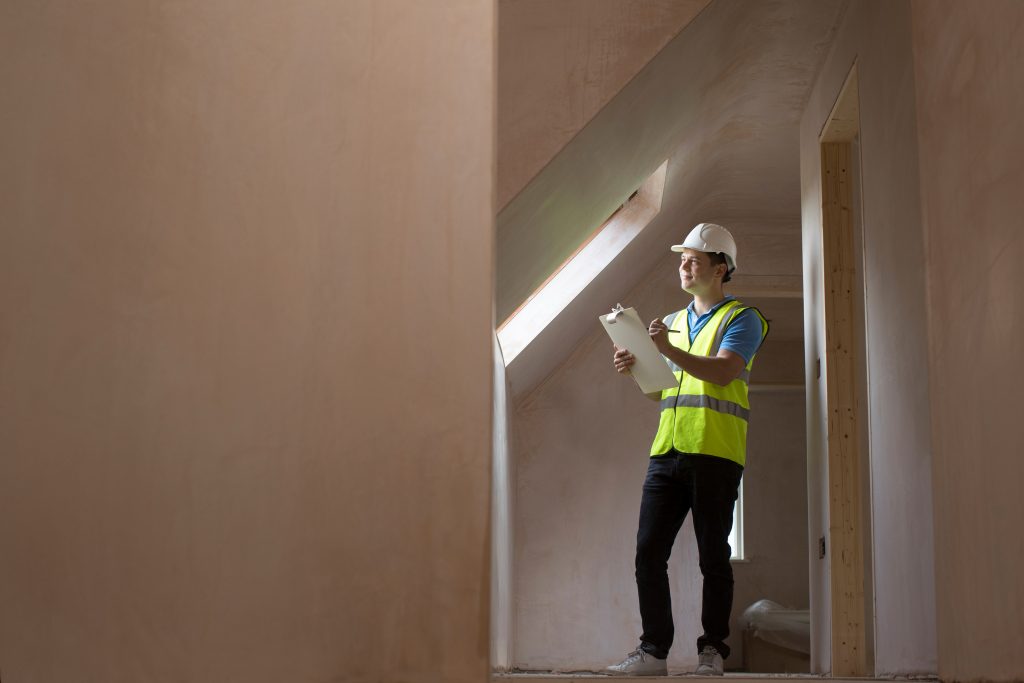 We will act as the contract administrator to monitor and oversee the works within the terms of the contract with instructions and valuations being issued following the contractual procedures.
We are also able to act as the principal designer under the Construction Design and Management Regulation 2015 (CDM 2015). If you don't appoint a principal designer for your construction project (involving more than one contractor) you may be automatically taking on the duties yourself and be responsible for not only the client duties but also that of the designers.
If you have a project in mind or are planning construction works then please get in touch for a no obligation conversation to see how we can help.
2021 has seen construction works continue to be in high demand, albeit with limitations in respect of Covid and Brexit causing supply shortages for both skilled labour and materials. We have seen that raw material costs have significantly risen, driven by shortages and high demand for products as reported in our article in July here.
Our Architecture & Building Surveying department has been busy managing construction works onsite and have seen no let-up in new projects for commercial, agricultural and domestic development works.
We have surveyed and prepared drawings and building condition surveys to support in excess of a dozen applications for both residential and commercial change of use of agricultural buildings, where farmers are actively seeking to diversify ahead of the Agriculture Act and change to subsidies.
During 2021, our Building Surveying team has been involved in a large variety of specialist projects including:
Funeral Parlour in Letchworth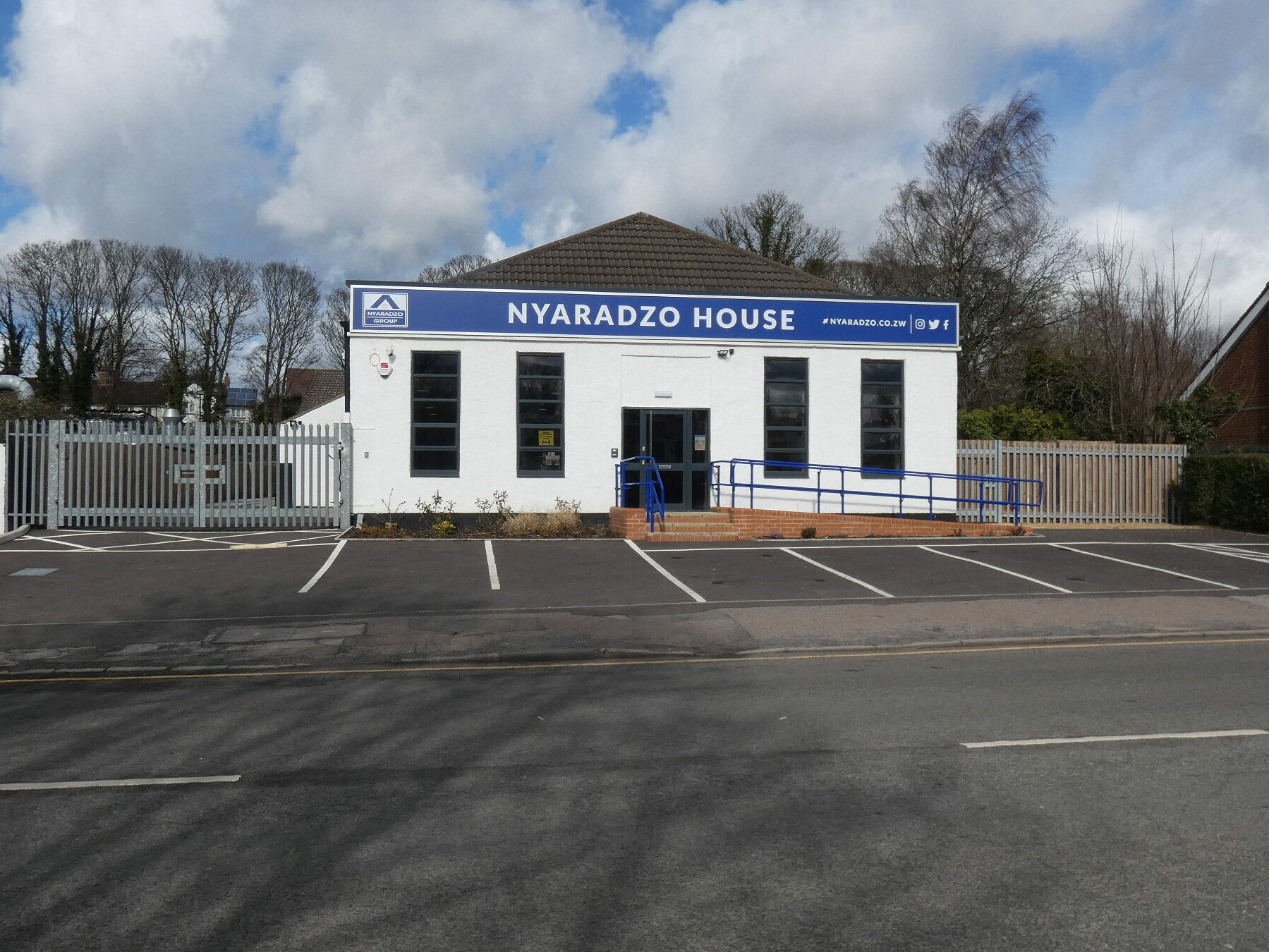 The Zimbabwean Ambassador recently opened the first UK based funeral parlour for our clients, who have similar facilities on several continents as well as throughout Africa. The CEO of Nyaradzo Funeral Services in his welcoming speech paid tribute to the creative talents of our Chartered Building Surveyor, Stuart Brown, in turning a disused 1930s printing factory into a bespoke funeral parlour.
Third Floor Office Attic Conversion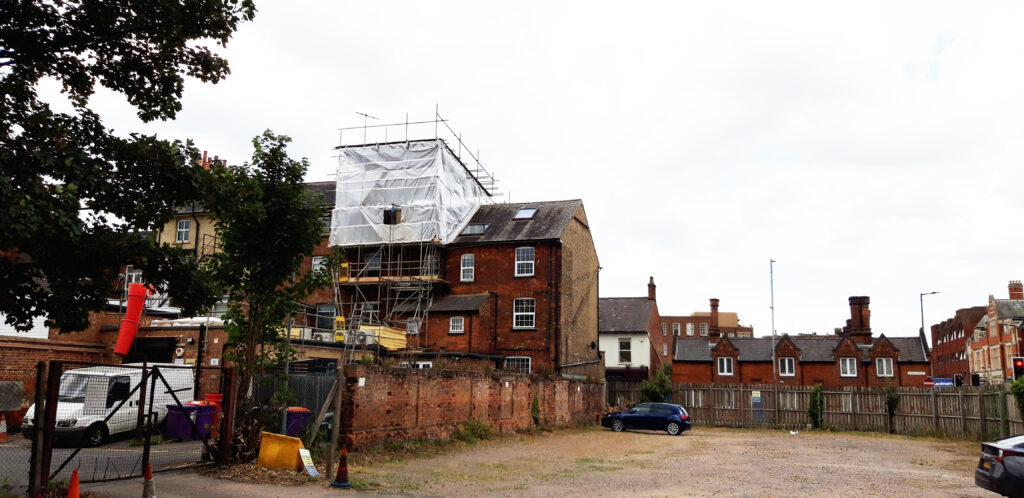 Work has recently commenced on converting the third floor storage space into an office for the principal in a solicitors' office in Bedford Town Centre. The project, being in a conservation area, required planning consent for the formation of two lead clad dormers on the rear elevation. We are providing design and project management services for the project and have acted as Agreed Party Wall Surveyors for both the owners and the next door neighbour, where the party wall is being extended upwards for the dormer construction.
Church Redecoration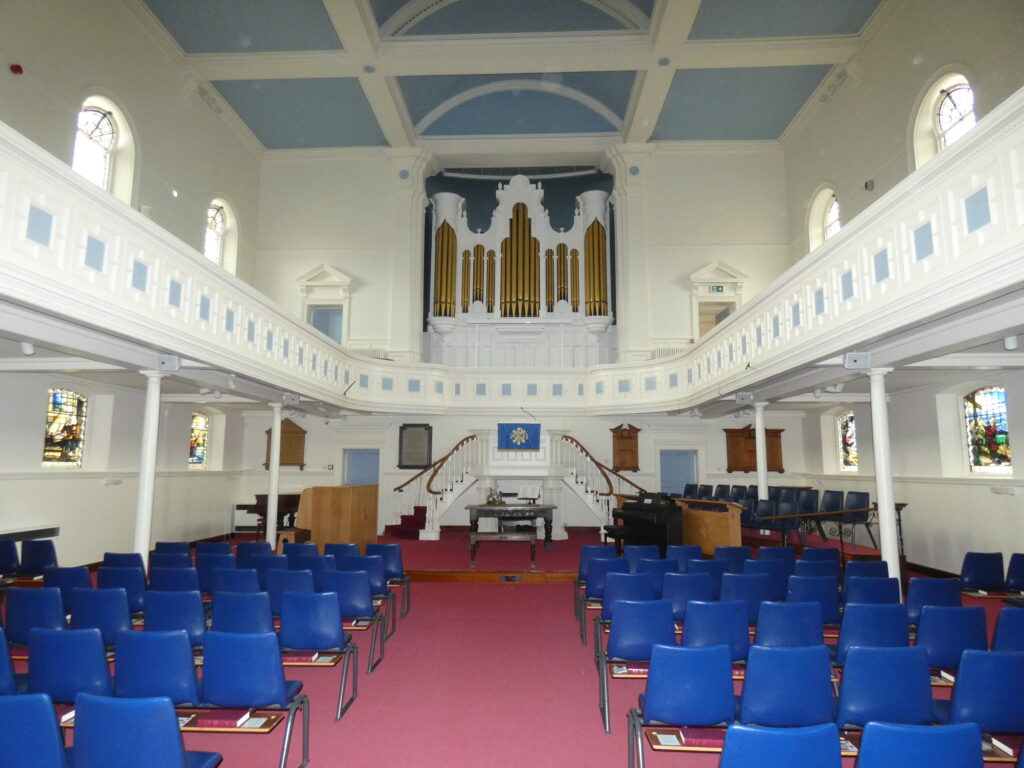 As the interior of Bunyan Meeting Church area had not been redecorated for over 30 years, it was beginning to look tired and several areas had suffered from flaking paintwork. The Church buildings, being Grade 2 Listed, required special consideration in the selection of breathable paints to maintain the historic nature of the building fabric. At the same time the Trustees took the opportunity to upgrade the lighting. Following this £150,000 project, the Church is now back using their worship space. Our building surveyors have been commissioned on various projects during the past 10 years including a £1,000,000 stonework and roof restoration project. In order to keep the Trustees updated on the condition of the building fabric, our building surveyors carry out a five year survey of the whole premises in order to formulate a planned maintenance programme.
New Highway Access and Driveway at Shuttleworth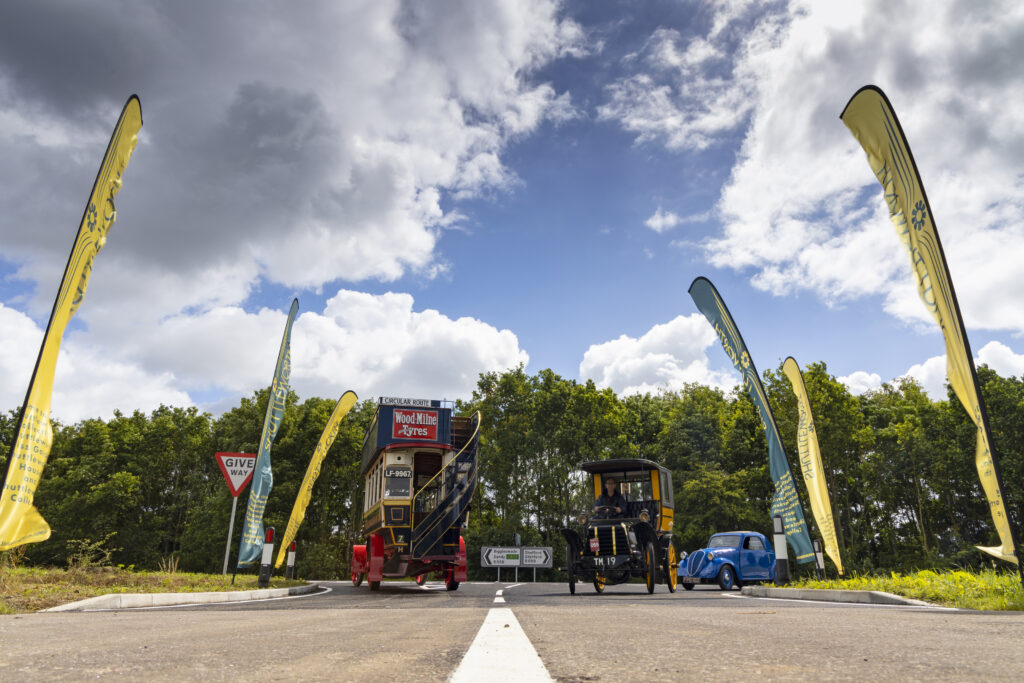 We have also recently completed the contract administration and project management of the construction of a new highway access and driveway to the Shuttleworth site near Biggleswade. Shuttleworth consists of historic parkland housing the world renowned Shuttleworth Collection and Grade 2* listed mansion house.
The new 1.2 mile road has been needed for some time to manage the flow of traffic to the mansion house, visitor attractions and Shuttleworth College. It involved extensive consultation at an early stage with both the local authority planners and Historic England to produce a scheme that safeguarded the special nature of the site.
Further to obtaining planning consent, we have discharged planning conditions and managed the construction works from specification and tender to snagging and handing over the road.
The next work on the site will allow a section of the old driveway that crosses the Old Warden Airfield to be removed, involving removing 300 tonnes of concrete and macadam! This will be replaced with grass to enable the vintage tail dragging aircraft to safely land and take off, utilising a far longer area of the airfield.
David Sawford, Partner and Chartered Building Surveyor, comments "We have worked hard with all stakeholders to produce a scheme that allows the site to prosper without harm to the special nature of the historic site and we are delighted to see the new road in use and named 'Alder Drive' in honour of the retiring Shuttleworth Trustee, Mike Alder."
If you are considering a building project and would like to discuss how we could help, then please contact David Sawford on 01234 362909 or email djs@robinsonandhall.co.uk or Stuart Brown, Chartered Building Surveyor, on 01234 362923 or email spb@robinsonandhall.co.uk