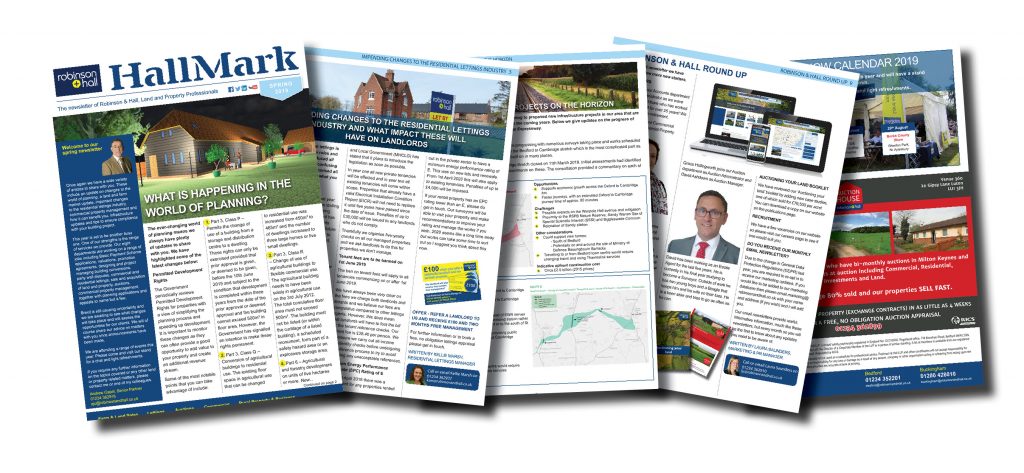 Since the last newsletter we have welcomed a few more new starters.
NEW STARTERS

Sue Twigg joins our Accounts department as Accounts Administrator as we wave farewell to Mandy Hoare who has worked for Robinson & Hall for over 25 years! We hope you enjoy your retirement.
Tessa Smith joined our Commercial department as Commercial Property Surveyor in March 2019.
Tessa graduated from Harper Adams University with a BSc (Hons) in Rural Enterprise and Land Management and then worked for a national telecoms company as a Graduate Commercial Property Surveyor where she became a Chartered Surveyor. She then spent the last 18 months working for a commercial surveying firm in London.
Determined to grow and develop her knowledge of the property industry, she decided to join Robinson & Hall as we deal with a variety of property types including residential, commercial and rural.
Tessa works across all commercial fields but is currently focusing on property management, lettings and disposals.

In her spare time, Tessa has a hands-on role managing her and her partner's flock of pedigree Suffolk and Texel sheep, walking her dogs and exploring different parts of the world.
Grace Hollingworth joins our Auction department as Auction Administrator and David Ashdown as Auction Manager.
David has been working as an Estate Agent for the last five years. He is currently in his final year studying to become a Surveyor. Outside of work he has two young boys and a Beagle that keeps him and his wife on their toes. He is a keen skier and tries to go as often as he can.
AUCTIONING YOUR LAND BOOKLET
We have reviewed our 'Auctioning your land' booklet by adding new case studies, one of which sold for £76,500 per acre! You can download a copy on our website on the publications page.
RECRUITMENT
We have a few vacancies on our website so please visit our careers page to see if one would suit you.
DO YOU RECEIVE OUR MONTHLY EMAIL NEWSLETTER?
Due to the change in General Data Protection Regulations (GDPR) last year, you are required to re-opt in to receive our marketing updates. If you would like to be added to our marketing database then please email marketing@robinsonandhall.co.uk with your name and address (if you wish) and I will add you.
Our email newsletters provide useful, informative information, much like these newsletters, but every month so you will be the first to know about any updates you need to be aware of.
Back to articles