Oxford to Cambridge Expressway – Preferred Corridor Announcement
12 October 2018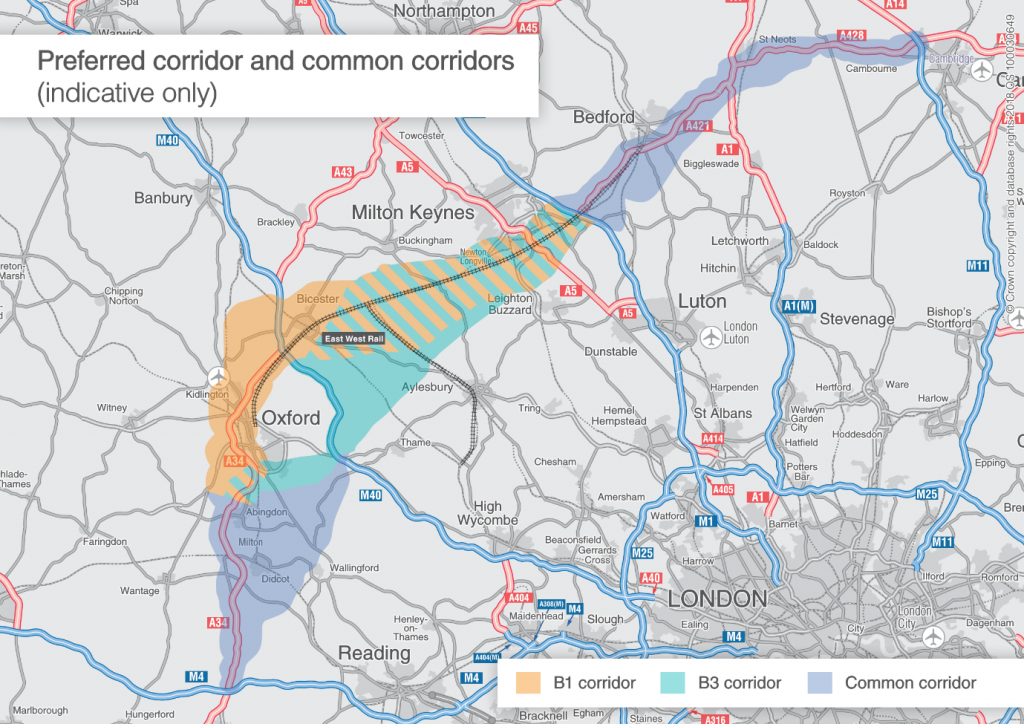 The Government announced on 12th September that the preferred route for the new Oxford to Cambridge Expressway had been selected, accepting the recommendations of Highways England.
This infrastructure project aims to address the 30 mile missing road link between the M1 at Milton Keynes and the M40 at Oxford and include new capacity around Oxford, relieving pressure on the A34 to deliver:
Faster and more reliable journeys
More jobs and better opportunities
Regional economic growth
Better access to services and facilities
Traffic diverted to the right roads, reducing freight on local routes
Improved safety
Sustainable travel
Better connections
Support for the region's future growth.
Preferred Corridor
Of the three initial routes proposed, the preferred choice is to be Corridor B – itself split into either Corridor B1 or B3 as shown on the plan below. This will run near the proposed East West Railway, providing a southern bypass to Milton Keynes and running either to the north or south of Bicester. Highways England has identified the main advantages of these options as follows:
Corridor B1 Advantages:
Offers the potential to use the existing highway infrastructure in a route to the west of Oxford
Potential to minimise division of communities by a new or improved road
Lowest predicted cost at this stage
Broad alignment with East West Rail thus enabling a multi-modal transport corridor
Corridor B3 Advantages:
Fewer sites with environmental designations
Broad area to identify a suitable route to the east of Oxford
Potential to move traffic away from existing settlements
Broad alignment with East West Rail thus enabling a multi-modal transport corridor
Next steps
Following this announcement, a detailed assessment of potential routes in each corridor will be prepared after discussions with stakeholders and landowners. For anyone likely to be affected by these routes, early engagement with Highways England will be crucial. These route options will be put to public consultation in autumn 2019 prior to application for a Development Consent Order to gain planning permission for the scheme. It is envisaged that the road would be completed by 2030.
Land values
Whilst this scheme may bring opportunities for some, with major development likely along the route leading to a potential to increase land value, a second announcement made on 13th September may cast doubts on the extent to which landowners may be able to benefit. A report published by the Housing, Communities and Local Government Committee (available here) has concluded that there should be a mechanism for Central and Local Government to claim a greater proportion of land value increase brought about by the grant of planning permissions and provision of new infrastructure attributable to the State. Furthermore, the compulsory purchase legislation should be overhauled to simplify the process, making it faster and less expensive for local authorities. There are also proposals to grant authorities power to acquire land at a fairer price – one that would not account for "hope value" and would instead be reflective of the costs of providing affordable housing, infrastructure and services that would make a development viable.
Conclusion
The above will all have a dramatic effect on the Oxfordshire and Buckinghamshire countryside. If you feel that you may be affected by the road or been approached by developers then it is vital to speak to us at the earliest possible stage.
Back to articles