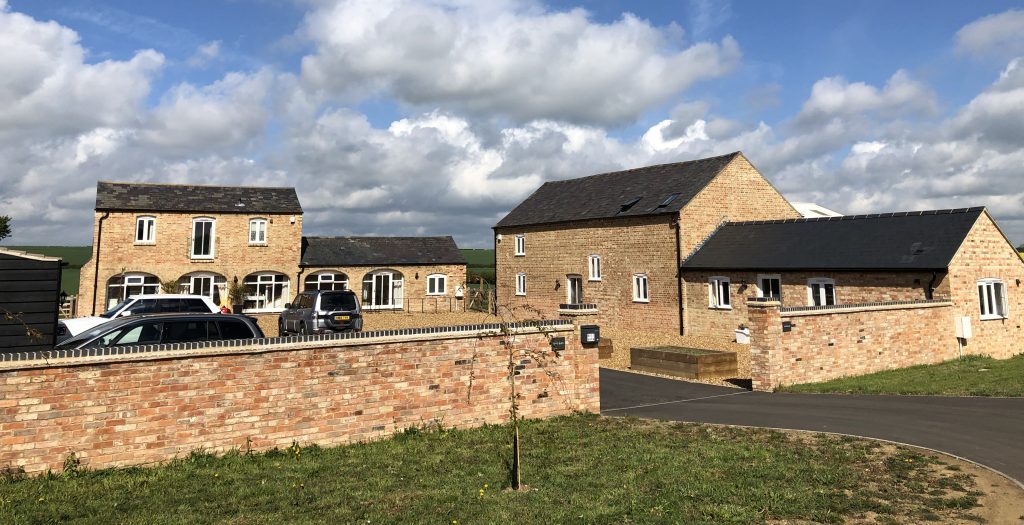 No two construction projects are alike and the relative freedom of design, procurement options and differing construction methods makes for many options and choices.
The following guide has been designed to illustrate the general process and the number of options available.
It is always important to seek professional advice and Robinson & Hall's Architecture & Building Surveying team, in conjunction with our Planning & Development department, would be pleased to advise you.
1. Have a clear vision and detailed brief

It is important to know exactly what you want to get from your site or buildings. We can assist you in understanding how you might be able to achieve it. The brief needs to cover key aspects of the design including the accommodation you require, the size of the structure, your budget, practical considerations, energy efficiency requirements and any other aspirations that are important to the character of the development.
2. Review relevant planning history and policy
This will help you determine what may or may not be possible from the outset. We will assess the potential of the site and provide clear and concise advice as to what may be achieved. Sometimes a pre-application enquiry can be used to identify any key issues of concern that the authority will require addressing as part of a planning application.
3. Appoint a Principal Designer

Robinson & Hall has a wealth of experience and is able to act as Principal Designer under the Construction Design and Management (CDM) Regulations 2015. It is important that this appointment is formalised in writing for domestic projects, otherwise the Principal Designer functions will be retained by the client (together with the statutory responsibilities of a client when having construction work carried out). It is a complex area which we can advise.
4. Carry out a measured survey
Measured surveys involve taking measurements of sites or buildings and will enable our designers to produce accurate plans. These plans are essential for assessing feasibility and for future planning applications. They can also be used to annotate and illustrate any disrepair of the building, which is important in any building conversion.
5. Draw up a sketch scheme
We will prepare a sketch scheme of the proposed development. The design package will generally include a set of floor plans, elevations and sections as appropriate, illustrating what is being proposed. This could also include visualisations which are really helpful to the planning officer and councillors in understanding what the development would look like when completed.
6. Prepare and submit the planning application
Detailed consideration needs to be given as this is what the Council will use to make a decision on the proposals. Schemes have to be well thought through and show a logical pathway to demonstrate how the final scheme has evolved. Often specialist surveys will be required to support an application which may involve
trees, ecology, landscape assessment, flooding etc.
7. Prepare technical details and working drawings
These are used to submit an application to the building control authority in compliance with the Building Regulations Act (if applicable). The working drawings detail the type of construction, materials to be used, dimensions and construction details. These details are also intrinsic to obtain competitive quotations for the works. It is always more economical to properly plan a project from the outset. Applying for retrospective consent for works is always high risk and will often be more expensive.
8. Do you need to comply to the Party Wall etc. Act 1996?

Our team has the expertise to advise if your project falls under the Party Wall etc. Act 1996. A quick conversation with one of our surveyors will help assess what will be required and to meet your legal obligation under the act.
9. Project management and contract administration
Our services include obtaining competitive tenders, preparation of the building contract, monitoring the construction works, and acting as the Project Manager and Contract Administrator.
We will liaise closely with you at regular stages to ensure you achieve the right outcome, meeting all your expectations and aspirations. We carry out all the contract administration for the project to formalise instructions, certify interim payments, snag the works and issue the practical completion certification.
10. Completion of the project
Upon completion we will prepare a health and safety file containing important documents such as guarantees, warranties, certificates, the specification of materials, recommendations for maintenance and details of the contractors. This type of record is always requested when further development is carried out and solicitors find this information useful when dealing with property transactions.
To find out more information or to discuss your building project, please contact David or Robert.
Back to articles