With land ownership or occupation, it is almost inevitable that at some point a utility company will need to cross your land to lay a new pipe, cable or other apparatus. Receiving notice of impending works from a utility company is always daunting, but as the utility companies generally have statutory powers to enter land, it is something which needs to be tackled head on.
Given the number of utility projects taking place in our region at present, we thought it would be useful to give key points/tips to assist those affected.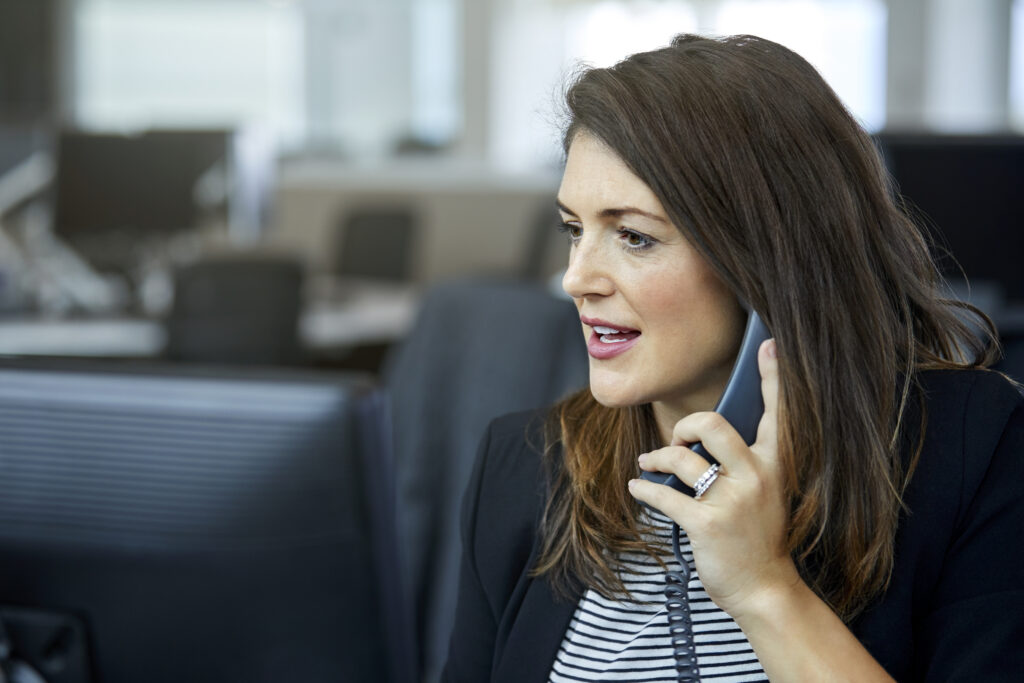 1. Early Engagement
We tend to find that engaging with the utility company, their agents or contractors at an early stage improves the outcome for the affected party. Once a scheme has been designed, it is often difficult to agree changes and therefore early engagement allows you to raise concerns during the design stage thus giving the contractors time to build these into the scheme design, where possible. Our advice is that if you do receive a letter of intended works, either engage with the company directly or let us know and we can do so on your behalf as soon as possible after receiving information regarding the proposals for the scheme.
2. Statutory Notices
Where the utility company has statutory powers of entry, there is a requirement for formal notices to be served. We always check these notices to ensure they have been properly served and are legally effective.
3. Keeping Records
The utility company should compensate you for your reasonable time spent on the scheme and reasonable agent's and solicitor's fees. From the outset of the scheme, you should therefore keep a diary of any time you spend liaising with the utility company so that we have the evidence to include in the claim for compensation.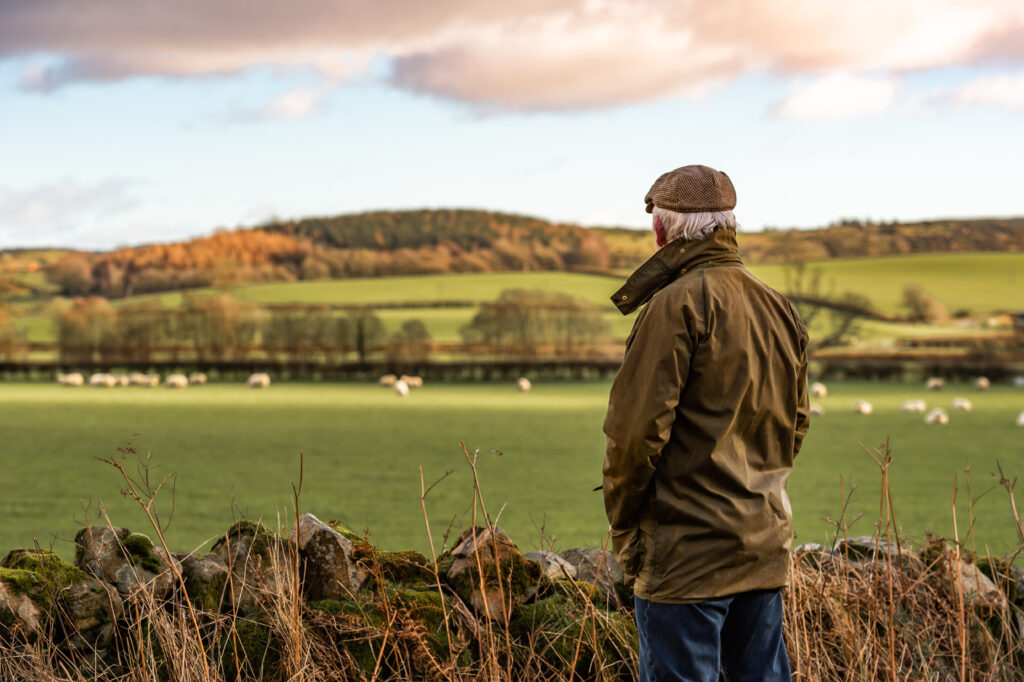 4. Record of Condition
Most utility companies will take a record of condition prior to works commencing. If they do, it is important to ask for a copy to ensure it is adequate. Alternatively, or in addition, it is often useful to take your own record of condition. The record of condition can then be used to ensure the land is reinstated to the same condition as prior to the works and compensation can be claimed if it is not.
5. Soil Storage & Management
The utility company should be mindful of the soil type and how to manage it during the works. Where soil is stripped, the topsoil and subsoil should be stored separately to allow proper reinstatement. If additional cultivations are required post-reinstatement, these can be included in the claim for compensation.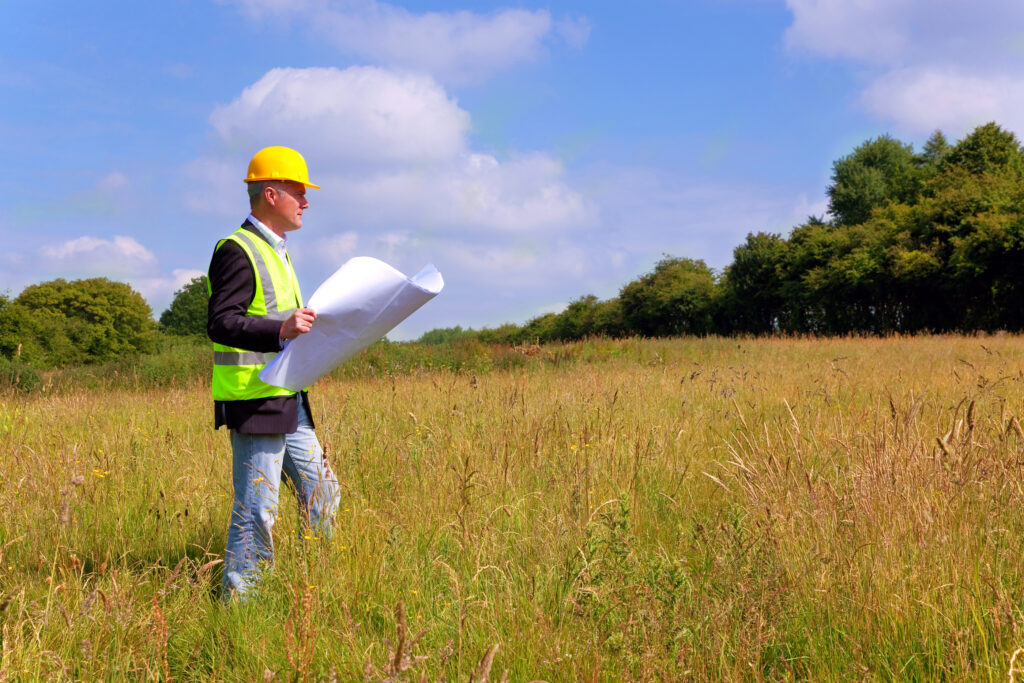 6. Access
The utility company should do its best to maintain access to land severed by the scheme during the works and thereafter. If access is restricted, either temporarily or permanently, this can be factored into any claim for compensation.
7. Drainage
Land drainage is often affected by works to lay pipes or cables. Ensuring the drains are properly reinstated after the works is key to minimising yield reductions in future years. If drainage plans are available, providing these to the utility company at an early stage means drainage can be factored into the scheme design rather than as an afterthought. For some schemes we are able to agree comprehensive drainage works but, even for smaller schemes, we always ask that the location of any drains found during the works are GPS mapped and that the farmer has the opportunity to inspect any repairs prior to reinstatement of the soil.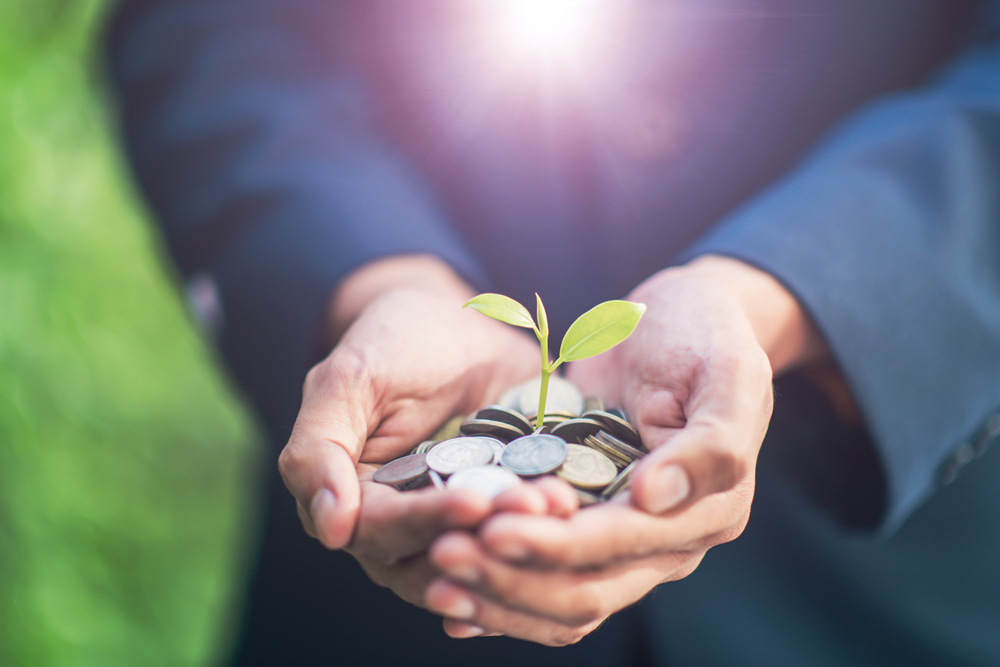 8. Claiming Compensation
The utility company is required to compensate you for any losses incurred as a result of the scheme. This includes the value of any land permanently acquired, devaluation of land, crop loss, your time, professional fees and any other properly incurred losses. When we put together compensation claims, we may be required to provide evidence to accompany the claim to prove the losses. Therefore, the more information you can give us with regard to additional cultivations, loss of crop, issues with drainage, etc, the easier it is to make the claim and the quicker the claim can be settled.
Whilst no one wants utility works on their land, they are an inevitable consequence of land ownership. It is therefore important to make the best of a bad situation and work, as far as possible, with the utility company to minimise the long-term effect on your holding. Robinson & Hall has extensive experience in acting for landowners against utility companies, so if you do receive notice of impending works, please contact one of our rural team for advice.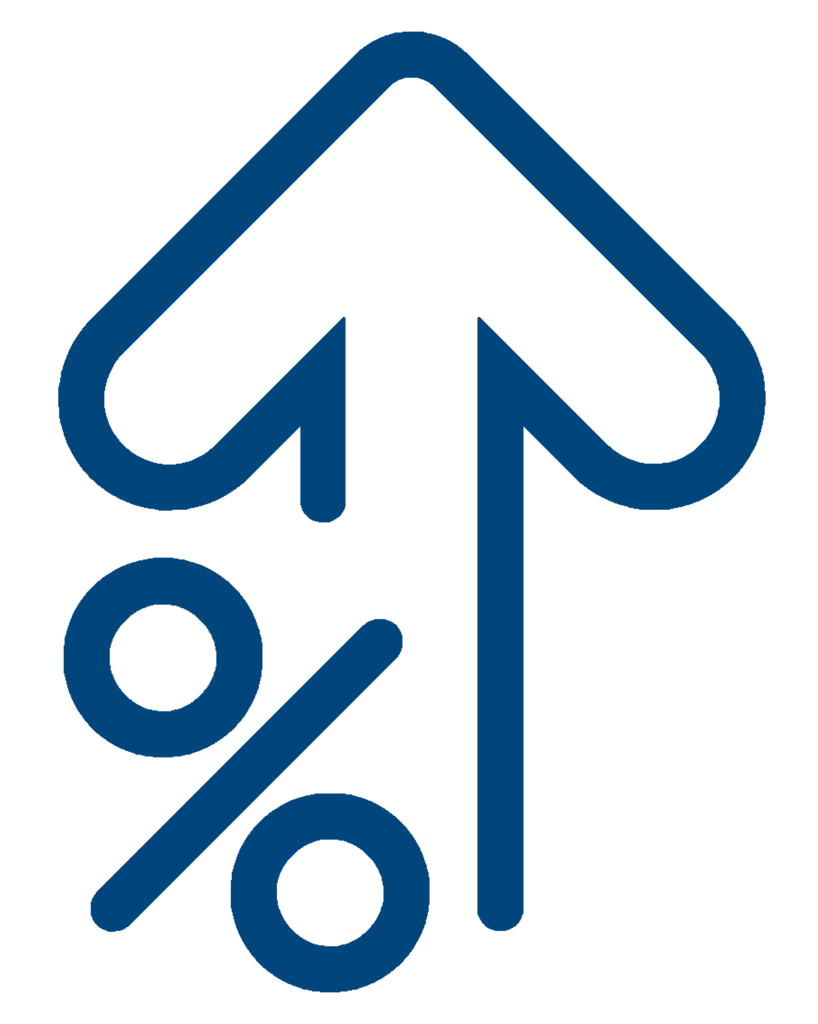 Globally and nationally, we are in testing times. Interest rates, inflation and energy prices remain stubbornly high and certainly at levels which have not been seen for several decades. Labour costs also remain high, with shortages in most sectors. International tensions in Ukraine and now in Israel/Palestine provide further threats to our domestic security.
As a result, many sectors are struggling, including manufacturing, transport and leisure. House prices are falling, the value of investment properties is falling and the international property markets in many parts of the globe are suffering quite badly.
In domestic agriculture, we still have relatively high fuel and fertiliser prices together with a shortage of experienced farm labour and an extreme shortage of seasonal labour. Commodity prices generally are lower than a year ago and profits are feeling the pinch.

Nevertheless, despite all this gloom, farmland values continue to go from strength to strength. There is virtually no decent arable land selling for less than £10,000 per acre, and to see prices rise to £12,000, £14,000 and even £16,000 per acre where there is local demand is far from uncommon.
Significant blocks of grassland in the central and eastern counties might not be so keenly pursued, but complete farms of 500 acres or more have been in short supply. There remains considerable cash within the farming community from rollover funds, with farmers looking to relocate to their dream holding. Regrettably, the choice of such holdings has been limited and selling agents have had little difficulty in securing sales.
There continues to be significant funds available from outside the farming community as well. In difficult times, land is seen as a safe bet. With stock markets difficult to predict and with other property investments in decline, considerable money has been coming into the farmland market.

The number of unsatisfied buyers from the 2023 season is substantial and this can only mean increased demand in 2024. Without a significant increase in supply, which seems unlikely, I would predict that prices will either maintain their current levels or increase yet again in 2024. Generally speaking, farmers are not under pressure from their banks and I see no reason why there should be significantly more farms on the market next year.
Finally, I would highlight a phenomenon at the lower end of the market. Paddocks, small pieces of woodland, off-lying rundown buildings, old railway embankments and the like may hold no real value to a farmer. However, on the open market, these seemingly useless items can secure extraordinary prices if marketed correctly. We tend to put these properties through our regular property auction. The competitive environment of the sale room brings the best out in bidders, and the results can be extraordinary. Farming clients have been able to sell an asset which has no value to them but which enables them to pay off the overdraft, pay the school fees, erect a new grain store or upgrade the combine.
To conclude, agricultural land is often compared to gold. It provides a safe investment in difficult times. Where the demand is rising and the supply remains static, we can only see a strong market through 2024.
For more information or to discuss the opportunities available to you, please contact David.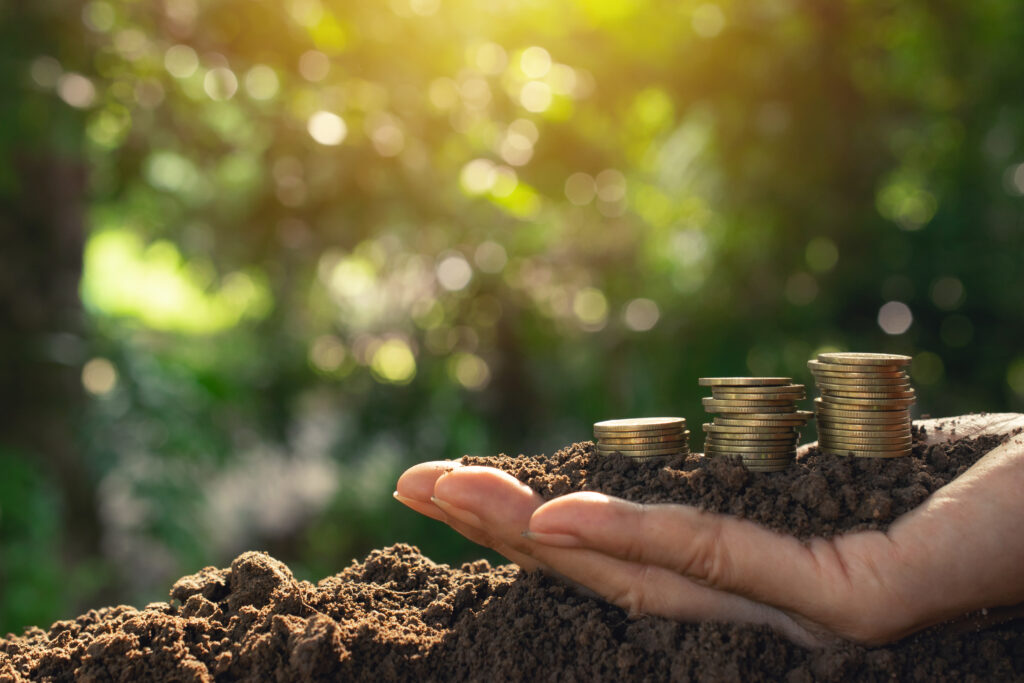 As we continue to see annual reductions to the Basic Payment Scheme monies received from Government, farmers and land managers can take advantage of applying for schemes such as the Sustainable Farming Incentive (SFI) in order to help to bridge this financial gap.
The SFI scheme is now open for 2023 applications, with the actions included in the scheme focussed towards providing flexibility to farmers and land managers, and offering options which have something suitable for every type of farm. Additionally, the scheme is not competitive and therefore anyone who applies (subject to being eligible) is guaranteed to be offered an agreement.
There are 23 actions offered as part of the 2023 SFI scheme, relating to soil health, hedgerows, pest and nutrient management, moorland, buffer strips, grassland and arable land, with higher payments being made for the more complex actions. It is likely that most farmers and land managers will already be undertaking some of these actions in the existing day-to-day management of their holding, and therefore it would be prudent for them to apply for the SFI, in order to receive a financial benefit for this.
The payment rates for the actions under SFI have been aligned to be similar to Countryside Stewardship options, so that you do not lose out financially, regardless of which scheme you choose to enter. There is also a management payment for entering into the SFI scheme, with £20 per hectare being paid for up to the first 50 hectares of land entered into an agreement. This is to help to account for the administration costs that may be incurred for managing an SFI agreement.
The SFI agreements run for 3 years, with farmers and land managers able to upgrade their agreement annually, either by including more land or adding more actions. An annual declaration must be submitted to the Rural Payments Agency confirming that all actions have been complied with.
With further actions being rolled out in 2024, this year is a good opportunity for farmers and land managers to enter into the SFI to gain an understanding of how the scheme works for them, as well as providing a guaranteed income for their business, with the option to upgrade or expand their agreement further next year. Payments under the SFI are made quarterly, which provides a regular cash flow for farmers and land managers.
For more information or if you require help in preparing and submitting your application, please call Katie Cross.

The latest version of the Sustainable Farming Incentive (SFI 2023) opened for applications from Monday 18th September 2023.
Since the end of August, farmers have been asked to 'express their interest' in entering the scheme. Those who did so will be contacted by the Rural Payments Agency and invited to make a full application. This is to be a stepped and controlled invitation process, with farmers not invited into the scheme all at once. Currently, an application can only be made once this initial invitation has been made.
Farmers who are interested in applying are to ensure that all required information is correct, to include online maps and land use / cover details. This will allow the online system to outline which SFI 2023 options can be chosen at the time of applying.
The Department for Environment, Food & Rural Affairs has also confirmed that farmers who have a live SFI 2023 agreement in place by the end of the year will receive an accelerated payment, being 25% the value of their agreement, in the first month of their agreement. This is to help with cashflow, in recognition of the reductions in other funding and the delay in the implementation of this scheme. Please note, standard payments for this scheme are due to be paid quarterly.
For more information or to discuss any of the above, please contact a member of our Rural Team.
Forest of Marston Vale Trust Delivers Record Tree Planting Season
Last winter, projects delivered through the Forest of Marston Vale Trust created nearly 120 hectares of new tree planting. This incredible achievement for the Trust's Forest Creation Team is an area three and half times larger than has ever been planted in a single season before and equates to over 150,000 trees and nearly 7 km of hedgerow.
As a catalyst for woodland creation, the Forest of Marston Vale Trust has been a trusted partner for landowners in the area for over 25 years. Thanks to the Trees for Climate programme, the Trust has been able to extend that support to offer their expertise and experience, combined with an attractive funding package beyond the Forest boundary (see map). The Trust doesn't take a "one size fits all" approach to support or funding; instead it works with landowners to assess potential planting ideas and help to develop schemes that fit their business and environmental objectives. Trees for Climate is a multi-million pound woodland creation programme that offers landowners and community groups the opportunity to transform their land through tree planting. The programme can provide funding to create the woodland together with ongoing maintenance payments for up to 15 years.
James Russell, Forest Director at the Forest of Marston Vale Trust, said: "The Forest of Marston Vale Trust has a long history of building relationships with local landowners, and through the Trees for Climate programme we have the funding to support them in bringing the impressive range of benefits which come from planting trees to their land."
The Forest of Marston Vale is one of England's Community Forests, which nationally delivered over 1,000 hectares of new woodland last winter and is aiming to double that in the next planting season. The trees planted in 2022-23 are expected to sequester 10,499 tonnes CO2e/y over their lifetime.
Mark and Kier Hall from Medbury Farm, Elstow were so happy with the Trees for Climate approach that they agreed to take part in a video testimonial for England's Community Forests. Kier Hall and Nick Marsh, Forest Creation Officer for Forest of Marston Vale Trust, were interviewed, and the team got some great footage of the farm. They were hugely positive and because of their desire to increase biodiversity, expand existing woodlands and hedgerows and create a shelter belt protecting against new developments, 13 hectares were planted on their land.
Kier Hall said "We looked at various tree woodland grant options and when we saw the Trees for Climate option, we thought that it was the most competitive financially, which for a small tenant business like ours is important. But also, they offered the expertise and the whole package, so from planning right through to delivery and the maintenance as well and created a plan that was going to be practical to implement."
Trees for Climate funding is still available, and the Trust's Forest Creation Team is actively seeking landowners and community groups interested in planting on their land.
To find out more, visit their website https://www.marstonvale.org/trees-for-climate, email the team at treesforclimate@marstonvale.org or call 01234 767037.

Updated guidance for the 'new and improved' Sustainable Farming Incentive (SFI) for 2023 has been provided by the Department for Environment, Food & Rural Affairs (DEFRA). This has been met with high anticipation by all involved in agriculture and land management.
The 2023 scheme offers 23 land management actions in total, which can be 'picked and mixed' across a farm. New options include actions on hedgerows, integrated pest management, nutrient management, farmland wildlife, buffer strips and low input grassland.
A guidance handbook has been produced by DEFRA detailing the scheme's rules and requirements. This is available online at https://www.gov.uk/government/publications/sfi-handbook-for-the-sfi-2023-offer
The main points are summarised below: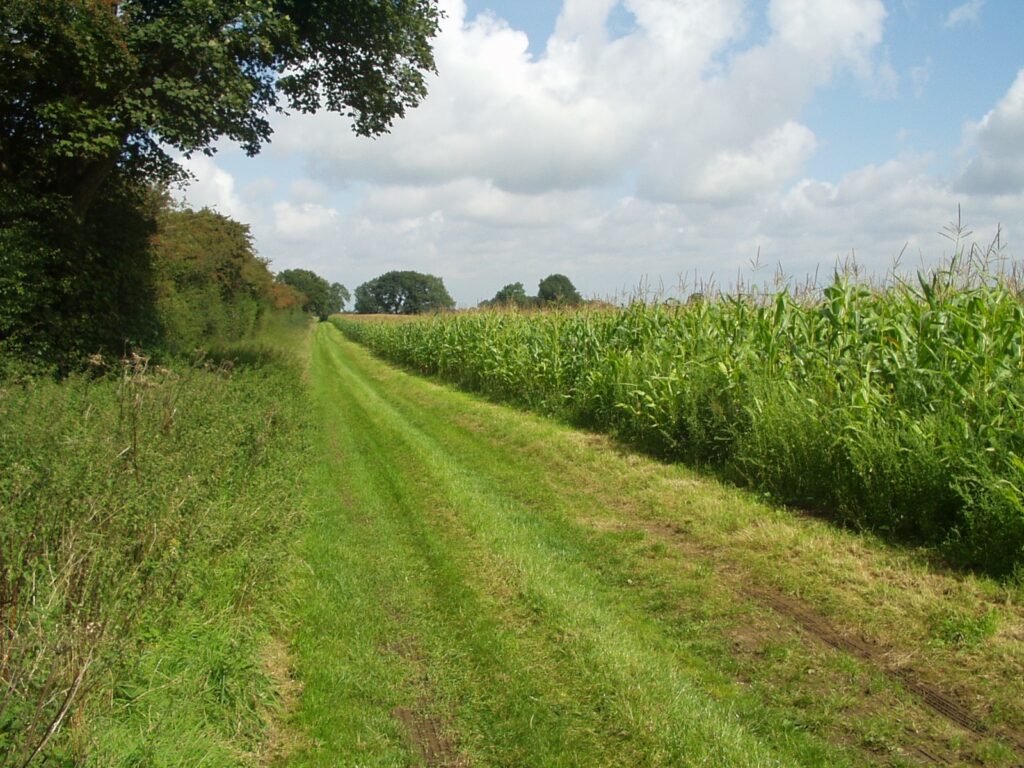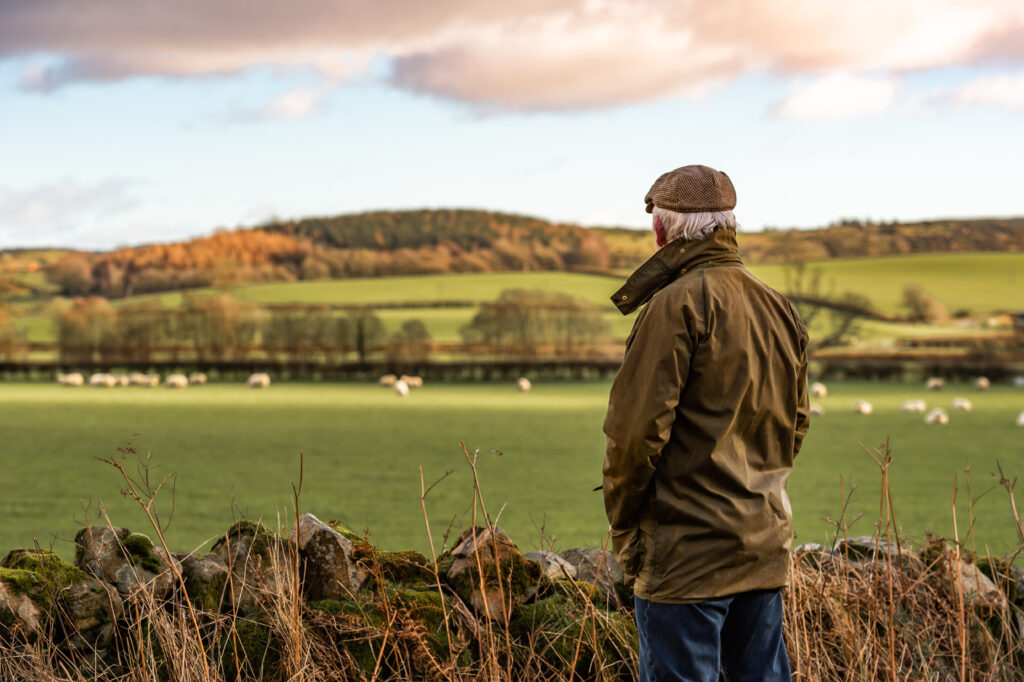 Applications for the previous SFI 2022 scheme closed on 21st June 2023.
The application window for SFI 2023 is to reopen through a 'controlled rollout' from August 2023.
Applicants are to use the Rural Payments Agency (RPA) online portal. Initially applicants will be able to apply online, or they will be advised that they need to contact the RPA.
DEFRA is aiming for the average time window from applying to receiving an agreement to be two weeks. This may be longer initially as the new technology is tested.
DEFRA has made it clear that if your land is eligible and the actions picked are compatible, an agreement is guaranteed. There's no competition.
The agreement will start the month after you accept it.
SFI 2023 will be a 3-year agreement, requiring management control of land entered throughout this period.
There are also shorter agreement lengths that do not require landlord consent for tenant farmers.
In a move away from past schemes, farmers and land managers can decide how best to achieve each action's aim, rather than follow a prescriptive rule-based approach.
The scheme is to be flexible and more compatible with other schemes, to include Countryside Stewardship. The guidance outlines how the schemes will interact.
There is to be no minimum or maximum land area or hedgerow length, enabling farmers to choose how much to enter.
Each applicant will be required to complete an annual declaration and provide evidence if requested.
It will be possible to 'upgrade' annually in the scheme, adding actions and land to the agreement.
Reducing the agreement scope, by removing land or reducing actions, will not usually be allowed. Should this be required, for instance, if an area of land is not under management control, the RPA is to be notified in writing as some payments may need to be repaid.
Payments are to be made every three months, with the first payment in month 4 of the agreement.
Payments will be based on areas and hedgerow lengths included, and will include the annual management payment of £20 per hectare for the first 50 hectares entered into the scheme.
In addition, a payment to cover one on-farm visit each year to review the health and welfare of livestock is available. There will be no need to have an SFI agreement with land management options to be eligible for this.
DEFRA is in the process of contacting farmers already signed up to the original scheme, to explain how they can access the new payments, benefits and improvements in the 2023 offer.
As further details emerge, we will be updating our clients. Should you have any questions, please do not hesitate to contact our Rural Property & Business department on 01234 352201.
We are entering a period of change in the agricultural and rural sector. It seems that the Department for Environment Food & Rural Affairs (DEFRA) is releasing information on a weekly basis and there are other changes affecting rural property such as business rates revaluation. All this can make it difficult to keep up to date with the requirements.
A summary of the Government schemes are:
Countryside Stewardship Scheme – Mid-Tier & Higher-Tier
The application window for the new five-year Mid-Tier agreements, starting on 1st  January 2024, is open until 18th August with new revenue rates for many options. Higher-Tier applications closed on 28th April.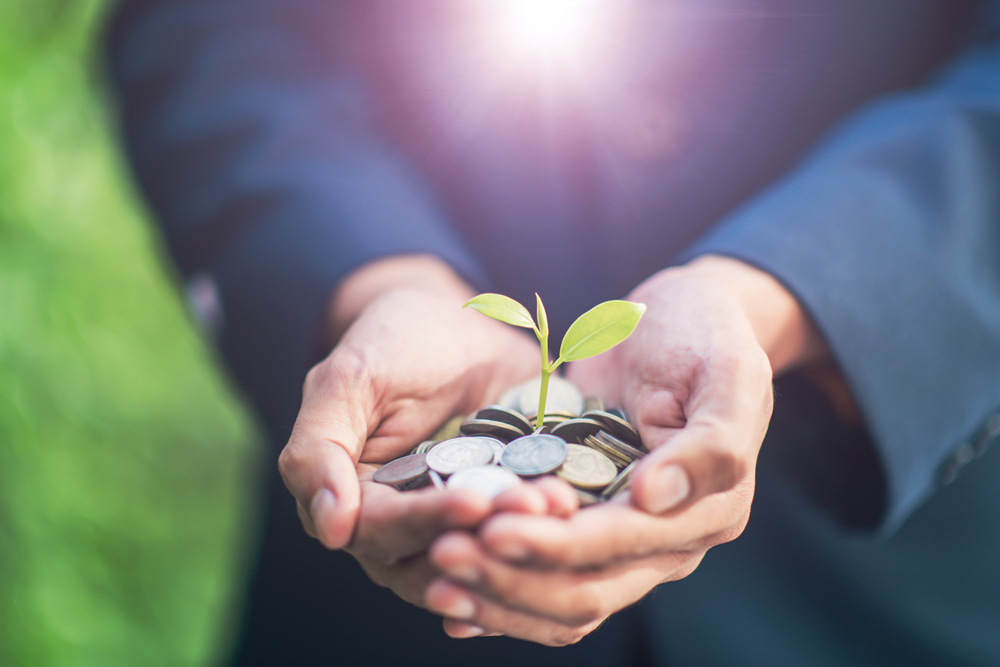 Sustainable Farming Incentive
Following much needed consultation, the scheme has had a shake-up. A Management Payment now provides £20/ha for the first 50 hectares, up to £1,000 per annum, as an incentive to join the scheme. DEFRA has also released information on six new standards to accompany the two soil standards from 2022. These include Integrated Pest Management, Low Input Grassland and Hedgerows. The new standards consist of a set of actions which applicants are to pick and choose from, providing flexibility. The new standards are to be introduced this summer and are to work alongside other schemes, including Countryside Stewardship.
Countryside Stewardship – Capital Grants
Applications can be made at any time for a three-year agreement. Items fall into four groups: boundaries, water quality, air quality and natural flood management. There is no funding limit. A review in January 2023 resulted in many payment rates increasing, which, alongside the removal of the funding cap, makes this a good opportunity for on-farm investment. It is expected to be oversubscribed, with 6 weeks' notice to be given prior to the fund closing.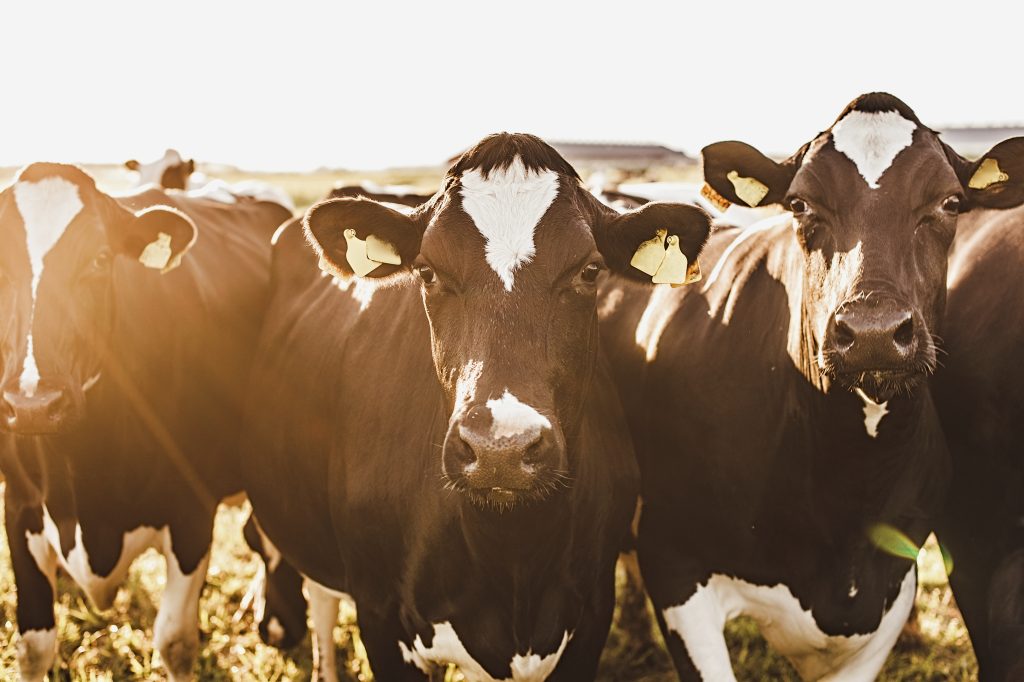 Farming Equipment and Technology Fund (FETF 2023)
The Animal and Health Welfare Review application window is open until midday on 15th June. Grants are available for between £1,000 to £25,000 for equipment, which includes mobile livestock handling systems, EID readers and feeder systems. Each item is given a grant value, which, if successful, can be claimed after purchase of the item.
Farming Transformation Fund
The second round of the Water Management Grant is open. Grants, available from £35,000 to £500,000, can cover up to 40% of the total cost for items that will improve efficiency of water use.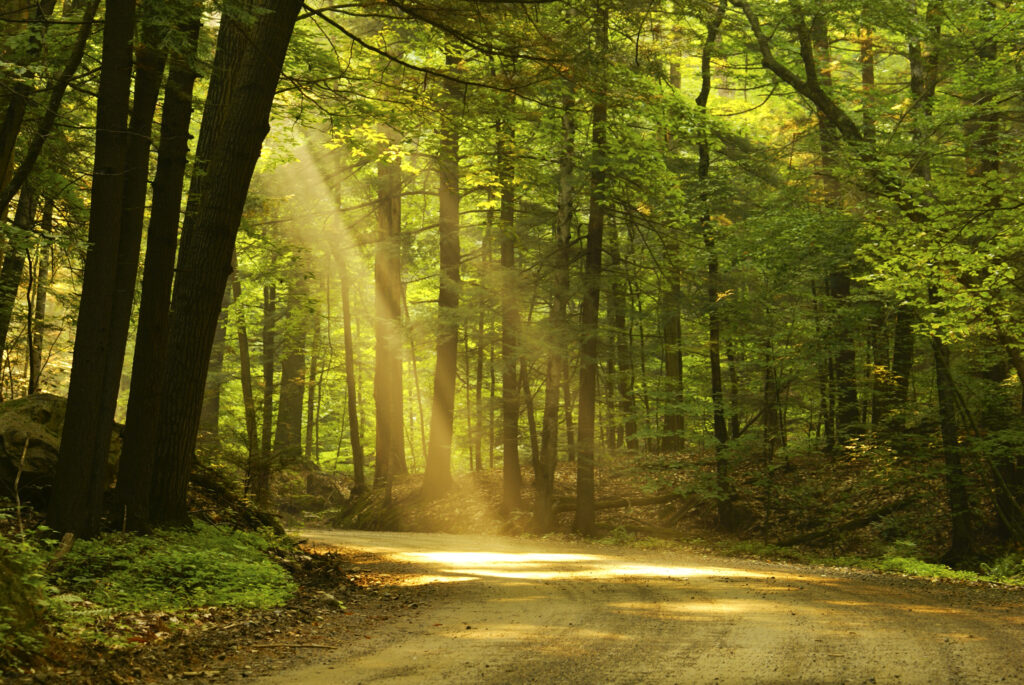 The England Woodland Creation Offer provides support for the creation of new woodland on areas as small as one hectare. There is the potential to receive up to £13,000 per hectare for woodland establishment, with a £350/ha annual maintenance payment for 10 years and top up payments for public goods.
There are other things to be aware of though including:
Business Rates Revaluation
Changes to the rateable values for all individual, non-agricultural businesses such as farm shops, holiday lets and storage buildings came into effect on 1st April 2023. This latest review was based on the rateable values from 1st April 2021. There have been some significant increases, as well as a few decreases. Reliefs may be available in the form of Agricultural Relief, Small Business Rate Relief (different rates are generally applied to rateable values up to £15,000) and Transitional Relief (to ease the move from one rate to another). With these reliefs potentially available and the ability to challenge the new ratings, we would recommend reviewing your business rate on the https://www.gov.uk/ website. Should a rate be considered incorrect the 'check, challenge, appeal' process can be undertaken.
With the rapid increases in building values and the materials to re-build, we have come across several instances in recent months of buildings being significantly under-insured. We would encourage clients to review all insured values to ensure they are in line with current costs and that you are sufficiently covered should the worst happen.
Natural Capital and Biodiversity Net Gain
This is a new and evolving area of potential income for landowners and farmers. Based upon DEFRA's natural capital approach, the biodiversity net gain (BNG) requirement means that developments must demonstrate a 10% improvement in biodiversity by completion. This may be through enhancing existing habitats or creating new ones. In many cases, development sites lack the space to achieve the biodiversity areas and therefore other landowners or farmers within the same local authority can enter agreements to offer this. Agreements are long term, generally 30 years. Reports of strong prices being paid to landowners have been circulating, however we would encourage care and involvement with a professional to review any potential agreements. Alongside this, there is increasing focus on developing markets in carbon and nutrient credits, with the Hedgerow Carbon and Soil Carbon Codes pilots working to produce a set of minimum requirements to appraise existing standards and schemes. This is a new and exciting area, but again we would encourage care and consideration before entering into any agreement.
For more information or to discuss any of the above, please contact Alice Brodie, Rural Chartered Surveyor on 01234 362921 or email amb@robinsonandhall.co.uk
Robinson & Hall's core patch lies within one of the strongest areas in the country for residential development land activity.
Lying in the centre of the Oxford-Cambridge Arc, beyond the London Green Belt and with excellent access to the railway and motorway networks, this area is easily commutable to London with good connections to Birmingham and the north. It is no surprise that considerable residential development is focussed on the counties in which we operate. We have achieved many significant successes for our landowning clients, with every expectation that this will continue.
Clearly, the housing market has been tested since September of last year with increased interest rates on top of significantly increased energy, materials and labour prices. Nevertheless, during this time we have been able to conclude four major sales, all to housebuilders who need to maintain their presence in this all important region.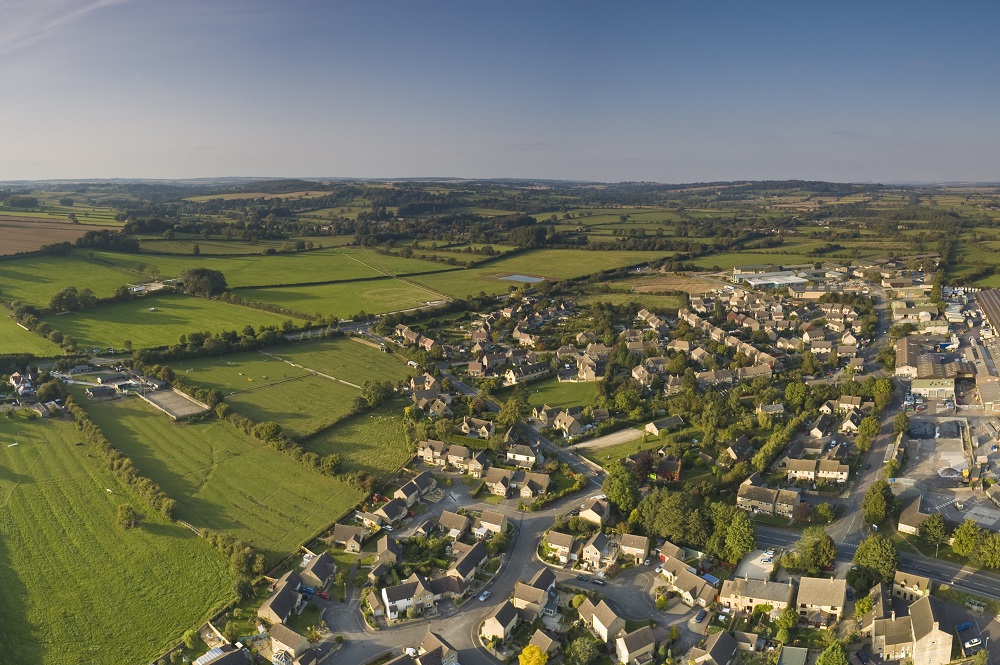 As we enter 2023, sales rates are climbing again and there is increased confidence that both inflation and interest rates will come under control. While there remains a degree of caution, a housebuilder needing to hold a presence within the Oxford-Cambridge Arc will not have many sites to pursue and good sites continue to sell well.
Sale prices per acre can vary considerably but we are still expecting most sales to achieve many hundreds of thousands of pounds per acre and even in excess of £1,000,000 per acre on occasion. We are also involved in zoning land for distribution warehousing where even higher prices per acre can be achieved for the correct location.
The journey for our landowning clients usually starts with a planning appraisal. We then offer the site to a small number of professional development promotion firms with whom we have strong contacts. A promoter can be engaged to manage and fund the promotion process, usually over many years, in return for a share of the development proceeds. We oversee this process on behalf of the landowner, acting as the liaison between landowner and promoter.
Releasing land for residential development can be extremely rewarding but the pitfalls are many. It is important to assemble a strong, experienced team if a positive result is to be achieved.
For more information please contact Hugo Bryan, Assistant Development Surveyor on 01234 362894 or email hjgb@robinsonandhall.co.uk
As I write, the 2023 farmland market is just beginning to get underway. Agents across the country are launching farms and land for sale. Others are keen to see what might be available to buy.
The past few years have seen a shortage of farms on the market. Some localised areas might have seen a small flurry of sales but for many other areas, the cupboard has often been bare.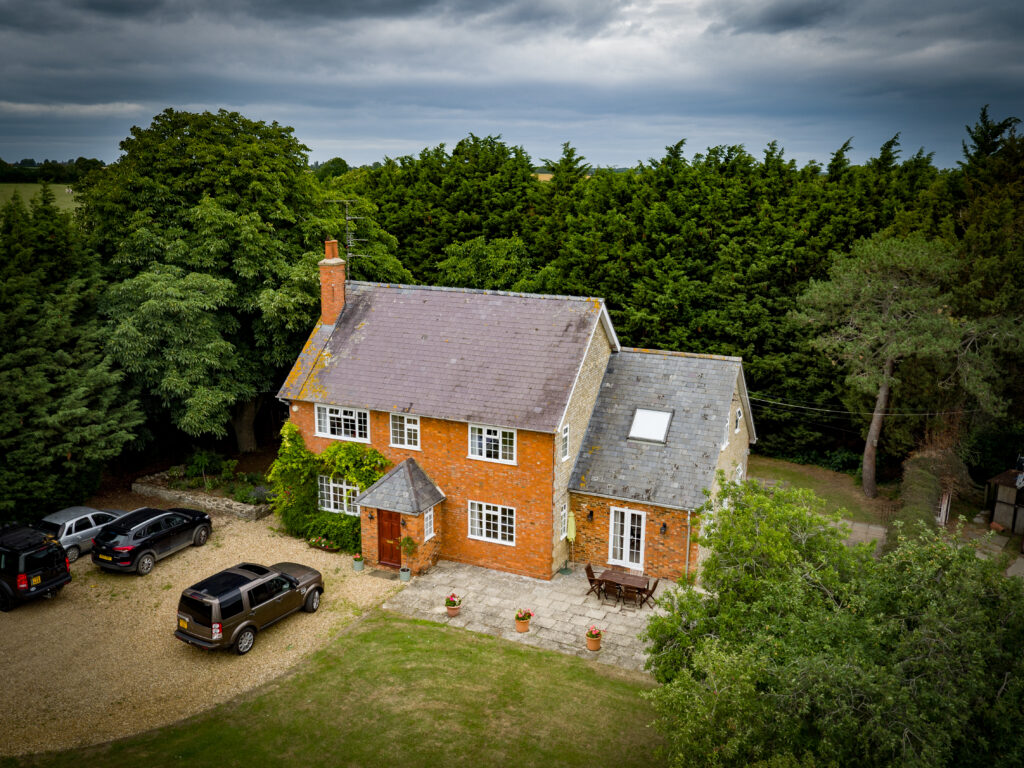 This shortage of supply is combined with a continued demand. There is always a latent demand among farmers to purchase the land next door. Funding might be a challenge, but such opportunities are rare and local competition for smaller blocks can sometimes be fierce. That said, if the locals are unable or unwilling to compete for small blocks of land, the demand from further afield is likely to be less enthusiastic, with a consequential reduction in price. It is not uncommon to find two very similar blocks of land where the price differs by 100%; the only difference between the two blocks of land being the capacity of the neighbours to compete in the purchase.
The sector which is perhaps the most under-supplied is the market for larger complete farms. There is a surprising number of potential buyers for a farm of, say, 1,000 acres or more. The money may come from a development sale or from outside the industry but there is a large number of potential buyers with tens of millions of pounds held in cash at the bank. The number of farms of 1,000 acres or more to come to the market in any year is limited and again competition for such farms can be intense.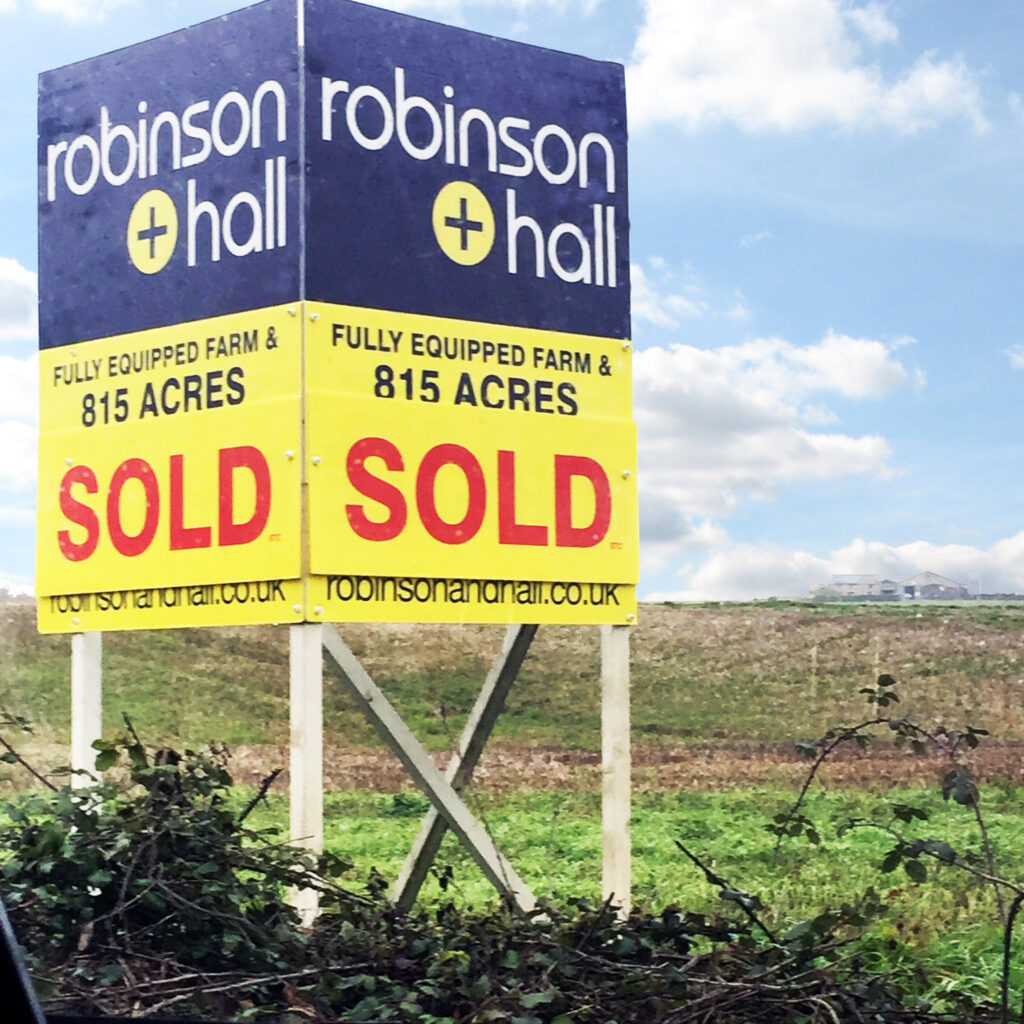 The average price for decent arable land now lies in excess of £10,000 per acre, albeit this hides quite a wide range. £8,000 per acre is not unknown where the locals will not compete. Likewise, it is not unusual for prices to rise to £12,000 or even £14,000 per acre and sometimes more where competition is strong.
We shall see how matters develop as the market unfolds through 2023. There remains little pressure from the banks, and the tax advantages of remaining in farmland have not been withdrawn. My expectation is that we shall see a year of continued constrained supply where cash buyers are king.
For information or assistance on any of the above, please contact David Jones, Head of Agency on 01234 362906 or email djj@robinsonandhall.co.uk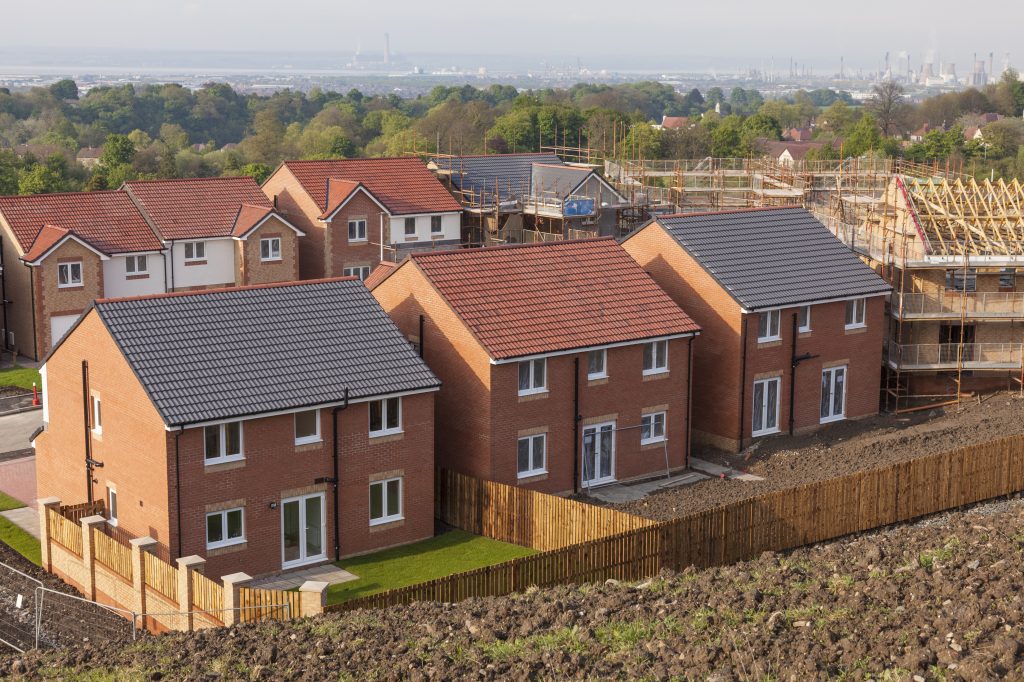 When it comes to land that sells for development, it may appear that some landowners are just lucky but that is not the case; such landowners have made their own luck! Turning farmland into a potential housing development happens by actively and successfully promoting the land (usually over several years). If a landowner is not trying to promote the land or working with third parties to do so, they have little to no chance of success.
Is now the right time to promote my land for development and what's the current development market like?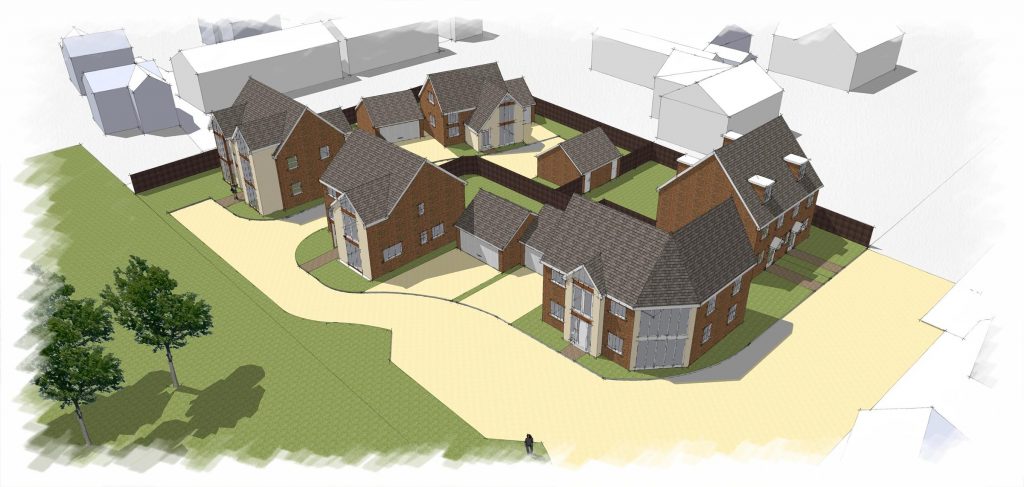 It is no secret that the development land prices have dropped from the 2022 peak (prior to Liz Truss's mini budget in October 2022). A few examples of issues that housebuilders and purchasers are contending with are:
Increased construction costs
Increased interest rates with fewer borrowing options on the market
Increased living costs
Increased uncertainty over the war in Ukraine
On the flip side, development land prices continue to benefit from a limited supply of good development sites available on the market and in turn, limiting the current reduction in sales prices. Looking forward, it is predicted that the inflation rate will slow to around 5% by the end of the year, which will also benefit the sector.
Development sites often take many years to promote and a few years to construct. Therefore, there is ample time for the market to recover for a development scheme that begins the promotion process today. In addition, a net minimum sale price (per acre) can and should be put in place to protect the landowner. Our knowledge of strategic development sales is invaluable in the sales process to ensure that the best price can be achieved given the current market circumstance.
What are my promotion options?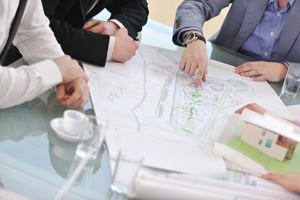 Promotion Agreement
A promotion agreement is a legally binding contract between the landowner and a land promoter. The promotion agreement is created to bind the parties to work together in achieving a desirable planning permission. The promoter funds the planning process entirely at their risk and if they are unsuccessful then the landowner has nothing to pay. However, if the promoter is successful then the land is marketed, a proportion is paid over to the promoter and the remainder is available for the landowner. There are of course many other important terms within a promotion agreement to protect the landowner which would need to be carefully negotiated. The correct land promoter will bring with them experience and expertise that is invaluable to achieving the desired outcome.
Option Agreement
An option agreement is a legally binding contract between the landowner and a developer. The option agreement grants the developer the right to purchase the land from the landowner during an option period in return for an option fee. The developer may look to gain planning on the land during the period. The purchase price the developer will need to pay the landowner will be pre-agreed within the option agreement. The price could be a fixed price or a discounted percentage from the agreed market value of the site at the point of sale. The right to exercise the option lies with the developer.
Self-Promotion
Land can be promoted by the landowner, usually with the help of an agent and other third parties. The landowner will look to fund the promotion of their land themselves, the benefit being that if their promotion is successful, the landowner will keep a higher amount of the proceeds. It is usually more viable for a landowner to promote their land on a smaller scheme.
How can we help?
Robinson & Hall, acting as land promoter, has promoted smaller sites for clients and the costs for the promotion are shared between Robinson & Hall and the landowner. We would take a pre-agreed percentage of the final sale if the promotion was successful, similar to any other promoter.
Robinson & Hall can increase your odds
We act for the landowner, not the promoter, to achieve the most favourable terms. Factors that are often negotiated include the upfront payment to the landowner, the length of the term of the agreement and the percentage split of the proceeds.
Robinson & Hall has a preferred list of promoters who we approach on behalf of our clients and who have a track record of successfully promoting sites for development.
From instruction to the point of sale, we will be working on behalf of the landowner to achieve the best results.
If you are considering your options and would like to find out how we can help you, then please contact David Jones, Partner at Robinson & Hall, on 01234 362906 or Hugo Bryan, Assistant Development Surveyor at Robinson & Hall, on 01234 362894.