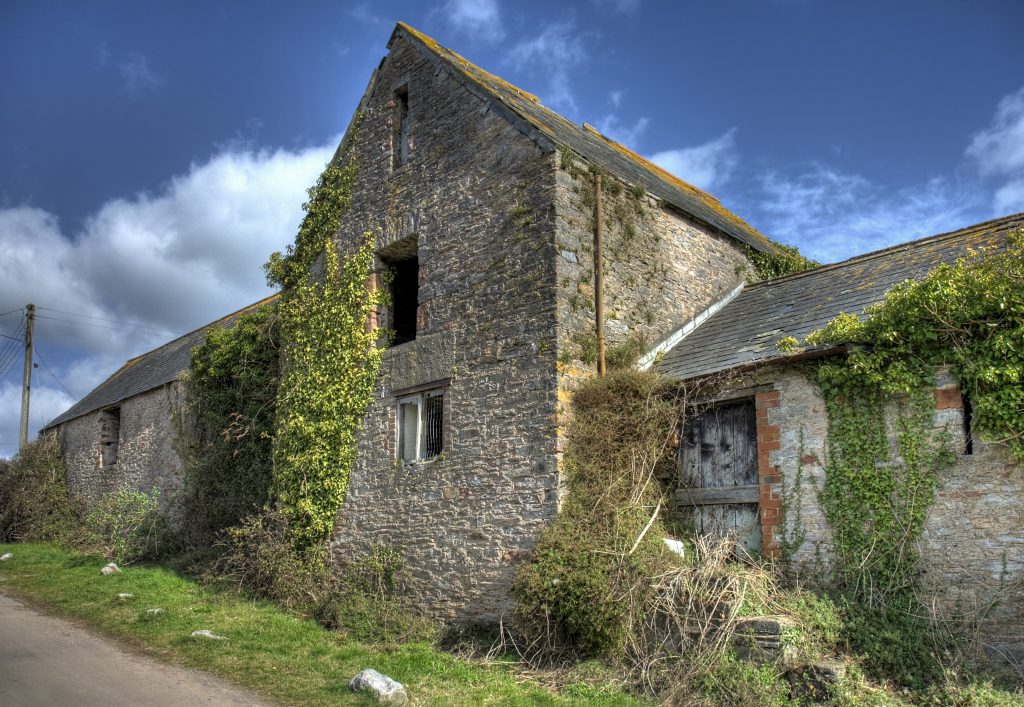 There are a few points worth sharing with you on the ever changing world of planning.
Reminder of new Permitted Development Rights that will come into effect from 1st August 2021 (see previous article here).
The changes will enable the change of use of premises in a commercial, business or service purpose (Class E) to use as a dwelling house (Class C3). This is subject to limitations and, in particular, the building must have continuously been vacant for at least three months or comprised a Class E use for at least two years and cannot exceed 1,500 square metres.
Bedford Borough Local Plan
The review of the Bedford Borough Council Local Plan (adopted January 2020) is now open for a new consultation and concentrates on the following policy areas:
Development Strategy to 2040
Town centre and retail policies
Updated Development Management policies (in relation to environmental net gain, quality of development and residential space standards, self-build and custom homebuilding).
The Council has defined a range of potential spatial strategies for the Plan that vary in focusing growth in the urban area to growth in villages and in new settlements proposed in both the A6 and A421 corridors. The consultation is welcoming views on these options and an opportunity to comment on the supporting documentation. The consultation runs until 3rd September 2021 at 5 pm. If you would like us to make a representation on your behalf as part of this consultation, please do not hesitate to get in touch.
Emerging Central Bedfordshire Plan
The Central Bedfordshire Local Plan has been found 'sound' by the Planning Inspector and was formally adopted at a Full Council meeting on 22nd July 2021. The new Local Plan now carries full weight in the determination of planning applications within Central Bedfordshire's administrative area. The Plan shall be subject to an early partial review within six months of its adoption and this shall create new opportunities for the promotion of sites.
For more information or to discuss your project with our Planning & Development team, please call Shannon Fuller, Assistant Planner, on 01234 362913 or email sef@robinsoandhall.co.uk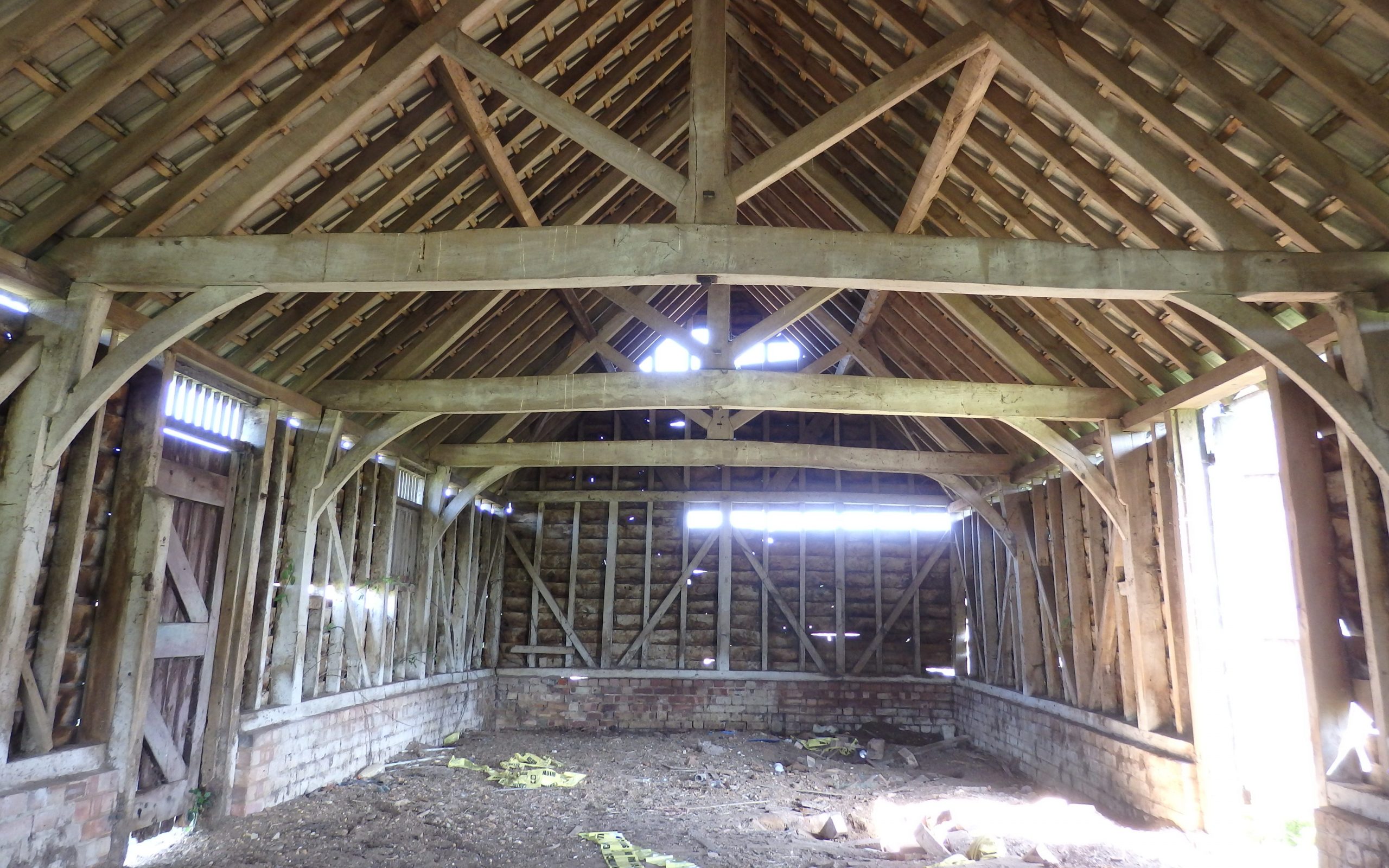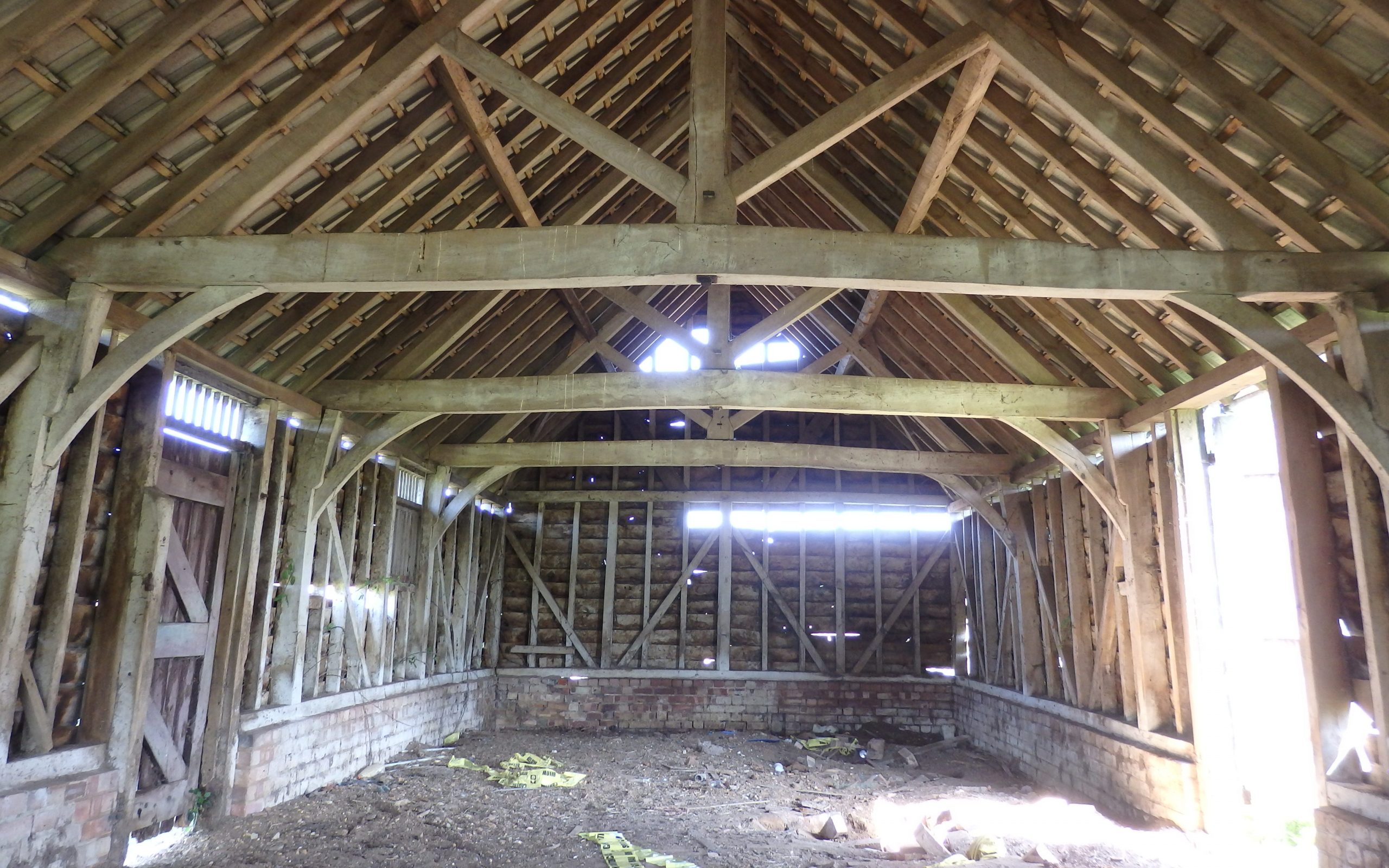 From 1st August 2021, a new permitted development right known as 'Class MA' will come into force to allow for the change of use from commercial, business and service use (Class E) to residential use (Class C3).
Class E was introduced in September 2020 and covers a wide range of uses as listed below:
Shops
Financial and professional services
Restaurants and cafes
Offices and light industrial
Medical or health services, creches, day nursery, indoor sports, gyms, etc
These new Permitted Development Rights allow a generous maximum floor space of 1,500 square metres to be converted to residential use without the need to apply for full planning permission and are a powerful tool to unlock the value of your property.
It will apply to buildings that have been in commercial, business and service use for two years and have been vacant for three continuous months prior to the application for prior approval. Unlike other permitted development for residential use, these new rights apply to buildings in conservation areas too.
There are conditions and limitations that apply and we will be happy to discuss these with you and advise if this route is appropriate for your case but we hope it will bring many new opportunities.
If you would like to discuss your ideas with our Planning & Development department, then please call Abel Bunu, Andrew Barr or Shannon Hubbard.
With a number of clients affected by the proposed corridor for East West Rail we have been awaiting more news of the proposed route. We have today received information of a consultation on five possible routes for the line between Bedford and Cambridge. The consultation also includes details of planned changes on the Milton Keynes to Bedford route.
On the Bedford to Cambridge sections, we understand that nine initial routes have been narrowed down to five and these will now undergo public consultation. Routes 1 and 9 are currently considered the most favourable. The consultation is now open and runs until 9th June 2021.
The five possible routes are shown on the plan below: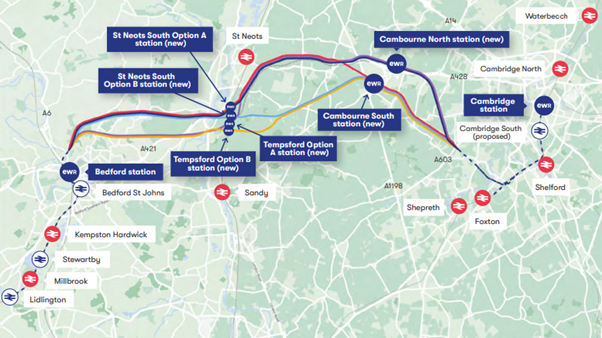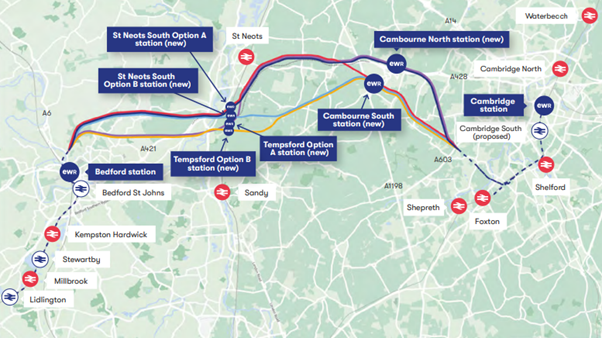 The current preferred options are routes 1 and 9 and the plans below show these in more detail: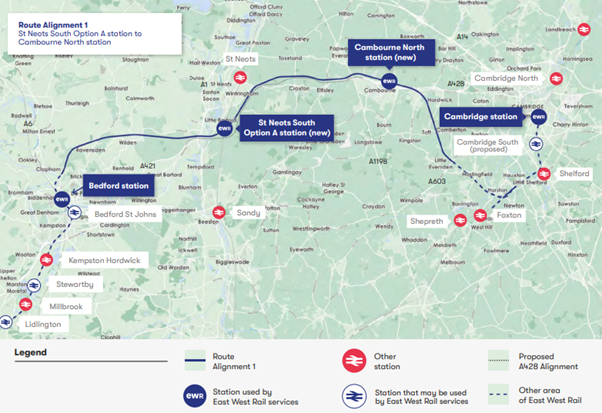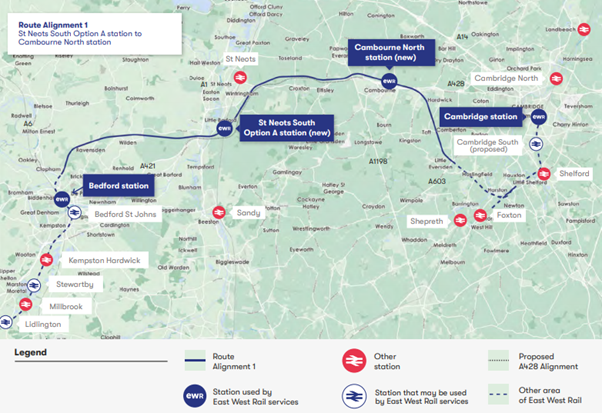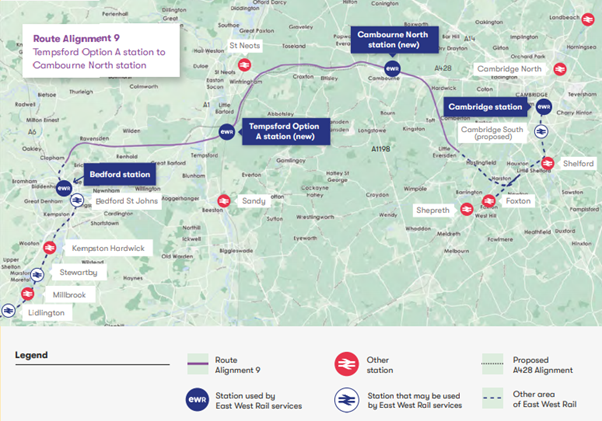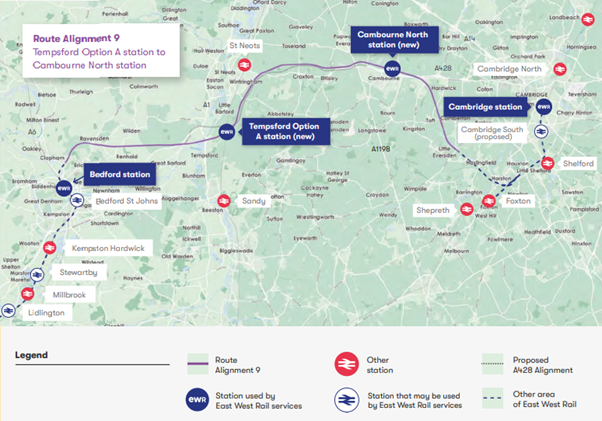 If you would like to respond to the consultation it can be found here: https://eastwestrail.co.uk/consultation
If your property is affected by the scheme and you would like further advice please contact Polly Sewell on 01234 362933 or email pkts@robinsonandhall.co.uk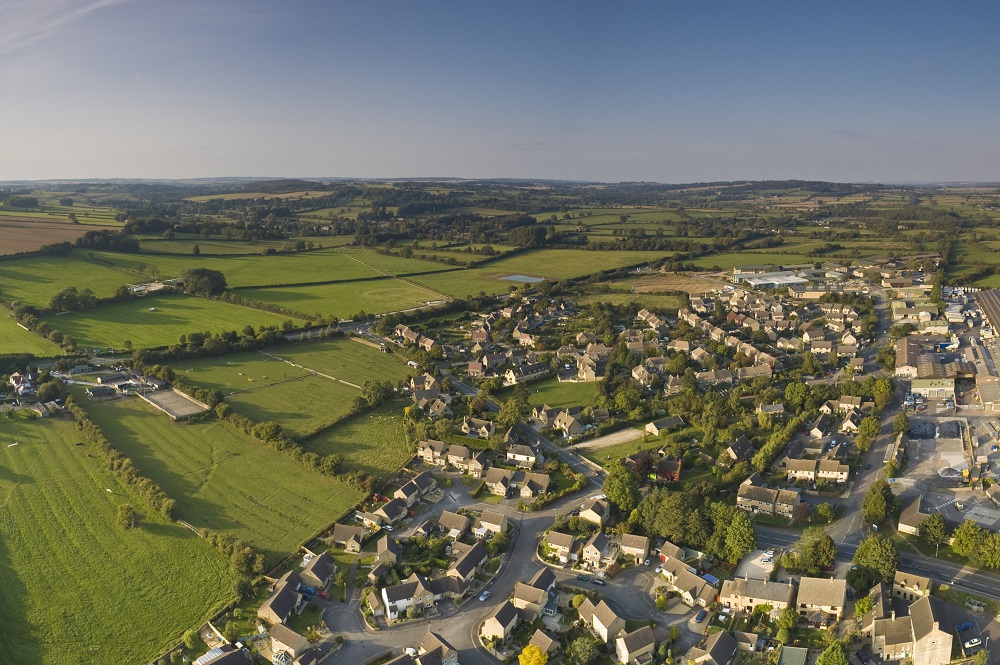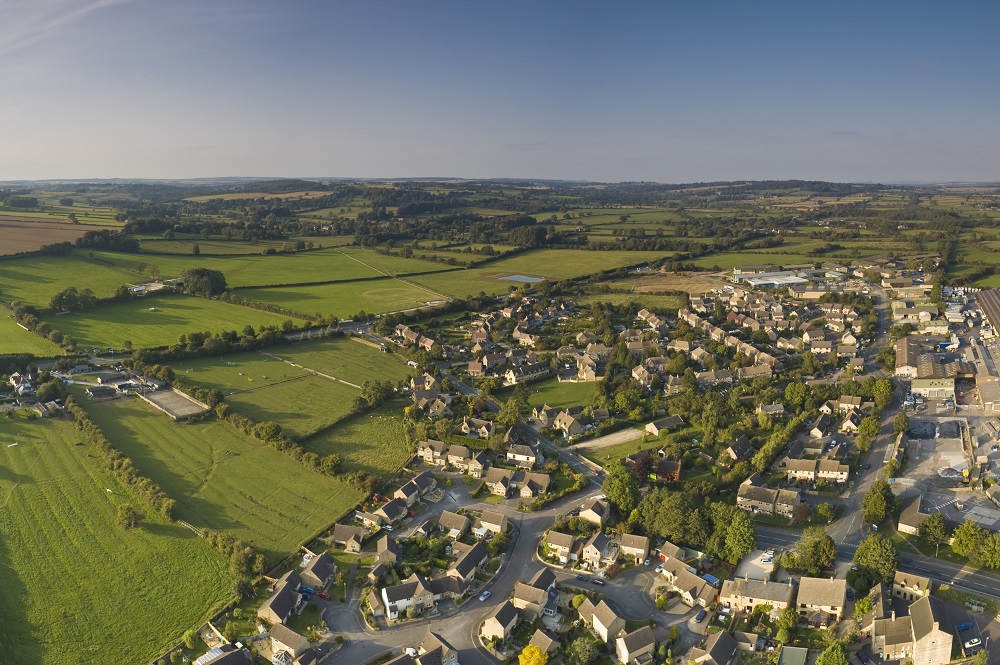 In March 2020 as part of the Budget, the Government committed to the preparation of a Spatial Framework for the Oxford to Cambridge Arc to guide the direction of development in this recognised growth corridor. The proposed framework looks to focus on strategic opportunities for growth, improved connectivity including the East West Rail project and bettering the environment by working across local administrative boundaries and supporting more sustainable growth at a local level.
A Policy Paper was published on 18th February 2021 by the Ministry of Housing, Communities & Local Government called 'Planning for sustainable growth in the Oxford to Cambridge Arc: an introduction to the spatial framework' and this sets out the Government's approach and what it will mean for growth, spatial planning and infrastructure within the Arc.
In addition, the Paper sets out how the Government will work with communities to develop the Spatial Framework and provides an indicative timeline on how it will be developed, starting with the developing of a vision for the future of the Arc through a consultation in summer 2021.
Options shall then be formed on how these visions will be developed into policy with a consultation on these held in spring 2022. Following this, a consultation is anticipated in autumn 2022.
Once the Spatial Framework is adopted in late 2022 / early 2023, it will have the status of National Policy and be a material consideration for proposals across the five counties (Oxfordshire, Buckinghamshire, Northamptonshire, Bedfordshire and Cambridgeshire) within the Arc.
Growth on this scale is likely to have far reaching consequences for many property owners in the area and we will continue to monitor the progress of the proposals and provide further updates as more details emerge.
For more information or to find out how our Planning & Development team can help you, please call Andrew, Abel or Shannon.
Abel Bunu, Senior Planner at Robinson & Hall provides a planning update of key areas which may interest you.
Permitted Development Rights (PDR) for two storey extensions
New PDR for extensions above existing buildings came into force on 31st August 2020. The changes allow up to two extra storeys on an existing house or one extra storey on a bungalow. There are also extra storeys allowed on flats and some commercial buildings.
Another amendment relates to the insertion of Class ZA which allows for the demolition of a single detached building that was in existence on 12th March 2020 and was used for office, research and development or industrial processes, or a free-standing purpose-built block of flats, and its replacement by an individual detached block of flats or a single detached house within the footprint of the old building.
The right provides permission for works for the construction of a new building that can be up to two storeys higher than the old building with a maximum overall height of 18 metres.
Important points to be aware of:
The project is subject to a prior approval process.
The number of flats created under Part 20 is not specified so it can be assumed that there is no limit until this is clarified by the Government.
There is a whole raft of limitations and requirements, so it is highly advisable to seek professional advice first.
Article 4 Direction in the Central Business District area of Central Milton Keynes
Milton Keynes Council intends to introduce an 'Article 4 Direction' in the town centre to remove Permitted Development Rights for the change of use from office to residential accommodation.
The 'Article 4 Direction', if confirmed, would take effect from 2nd July 2021, and would mean that anyone proposing to change an office to residential use would be required to apply for planning permission to the Council.
It is likely that the Council will be flooded with applications for office to residential conversion in order to beat this deadline.
"Permitted development" homes to meet space standards
On 30th September 2020, the Housing Secretary, Robert Jenrick announced that new homes delivered through Permitted Development Rights will have to meet the Nationally Described Space Standard which start at 37m² of floorspace for a new one bed flat with a shower room or 39m² with a bathroom, ensuring proper living space for a single occupier.
No date has been announced regarding when these changes will come into force which means that there is a likelihood that local planning authorities could be inundated with applications for prior approval before the new legislation is introduced.
If you would like more information on the above or would like to find out how our Planning & Development team can help you, please contact Andrew, Abel, or Shannon.
Andrew Barr, Head of Planning & Development at Robinson & Hall reports on these changes:
We reported in the summer of government proposals on major changes to the planning system, designed to simplify the planning process and accelerate development. Proposed changes included the introduction of zoning areas which in certain 'growth zones' may mean that development could proceed without reference to the planning authority. The consultation is due to end on 29th October and we will provide further updates when feedback is received.
In response to the changing face of the high street, the government has made a radical overhaul of the regulations surrounding Planning Use Classes encompassed in the Use Classes Order 1987. The Order has seen some modifications since its introduction, but the original Order does not perhaps cater for the myriad of uses in the 21st century high street.
The main change is to merge the number of uses into three main classes:
New Class E
This will cover commercial, business and services. This is a very broad ranging use class which will include retail space (current use classes A1-A3), office space B1 and a number of other uses including health centres, clinics, day centres, day nurseries, creches, gyms and most indoor recreations.
New Class F1
This will cover learning and non-residential institutions. It will include a number of former D1 uses e.g schools, non-residential and education training centres, museums, libraries, public halls, exhibition halls, places of worship and law courts.
New Class F2
This will include certain former A1 retail uses (local convenience stores), halls, meeting places, swimming pools, skating rinks, outdoor recreation.
Sui Generis
This is the 'none of the above' category and has been widened to include pubs or drinking establishments (currently A4) and takeaways (A5). A number of D2 uses are also included e.g cinemas, concert and bingo halls.
All B2 (industrial) and B8 uses (storage and distribution) are unchanged.
Also unchanged are the former C class uses covering residential, hotels and guesthouses.
Merging all uses into one class (particularly relevant with Class E) offers greater flexibility for property owners and supports the high street into the 21st century. It should also afford greater protection for services such as pubs and community shops e.g local convenience stores.
Whilst the changes should be broadly welcomed and should see the end of the large number of applications for minor changes of use clogging up the system, there is some nervousness surrounding the implications of these regulatory changes. Under the new system for example, it will be possible to change the use of premises from say a dental practice to a restaurant, uses with considerably differing impacts on the local neighbourhood, without recourse either to the planning authority or to the local community.
If you would like to discuss the implications for your property on these changes, please do not hesitate to contact one of the planning team.