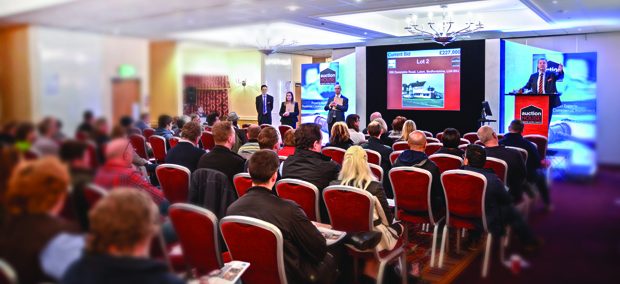 Research by the UK's leading auctioneer suggests that the auction market is continuing to prosper, while estate agent sales are still struggling.
Auction House – which has a branch in Buckinghamshire – says the latest data from the Land Registry indicates that 2017 saw a 21% decrease in residential sales compared to 2016, whilst the group's own auction figures were at record levels.
Charles Lovell, Head of Auction House Beds & Bucks, said: "We had an excellent year in 2017 with 3,485 lots sold – which is over 1,250 ahead of the second largest auctioneer. Also, our entries this month are up again year-on-year, with 740 lots catalogued for February – a total which is 5% ahead of the number in 2017."
Charles says that he believes the reason behind the rise is because auction has now become more mainstream, with its attractions better understood. He explains: "There are two ways to sell a property. The first is to start low and bid up – as happens in auctions. The other is the 'start high and discount down' method used by estate agents. If your property is suitable for auction, then the selling price achieved will be around the same level or sometimes better, and the sale will be quick and easy. What's more, when the hammer falls contracts have exchanged and the sale is certain.
"But there are some provisos. Firstly you should be entering it into a regional auction room where local properties tend to be sold to local buyers for more money, rather than one that is out of area. Secondly, the marketing and reserve price will both need to be right – and you can trust Auction House to help with this."
Charles also says that a wide variety of properties fall into the category of those most suited to auction. He adds: "Our results show that any property that would benefit from refurbishment, renovation or development is right for auction, or where there are issues such as a short lease, structural concerns, or other factors that make them unmortgageable.
"We regularly sell commercial lots, mixed use, all sorts of land, plus ground rents and all manner of other unusual lots. We also sell residential investments for landlords who leave their tenants in residence when selling – the big benefit here is that the seller keeps receiving rent until completion and the purchasing landlord takes over the tenancy and draws income from the day that they complete their purchase.
"Selling by auction really does make sense. That's why it is growing in popularity, becoming more mainstream and delivering a speedy result for an increasing number of sellers."
If you have a property that might be suitable for auction, then please call Auction House on 01234 362899.
Back to articles