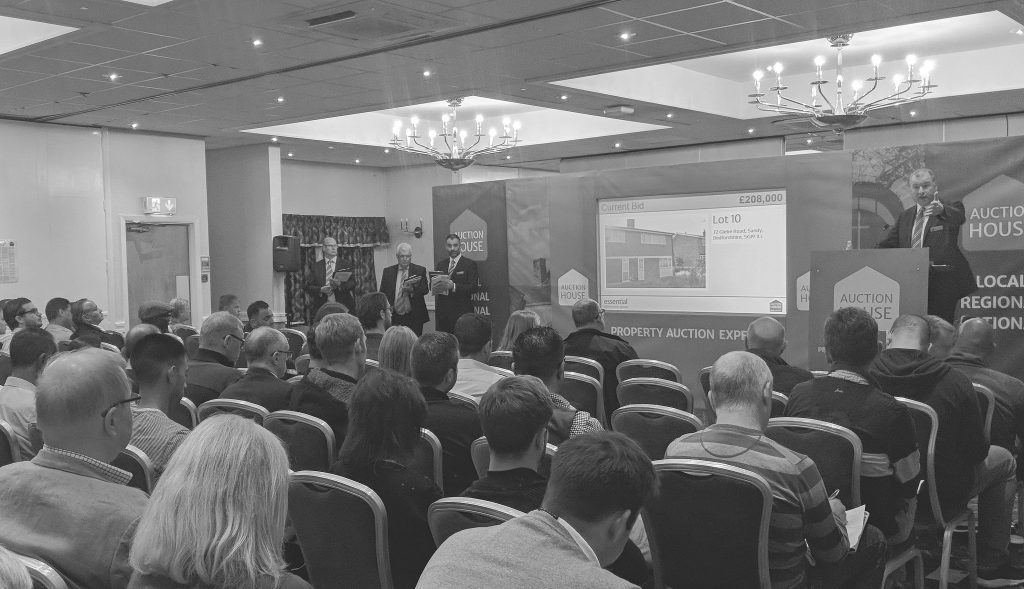 Award winning property auctioneer Auction House – which has a Beds & Bucks franchise operated by Robinson & Hall – has won a silver trophy at The Negotiator Awards 2018 – the property industry equivalent of The Oscars.
The group picked up the award in the category 'Residential Auction Service of the Year' during the glittering ceremony held at London's prestigious Grosvenor House Hotel on the 30th November, hosted by comedian, broadcaster and novelist Julian Clary.
News of the award came as the company reported a fifth consecutive month of record sales in 2018, selling more lots in every month since July than ever before in the eleven year history of the network. In November this year the group sold 156 lots from 219 offered – a success rate of 71% and raising a total of £14.7m. These figures take the cumulative total in 2018 to sales of 3,257 lots since the start of the year, raising over £400m (£400,721,903) in the process.
Commenting on another month of record numbers, Charles Lovell, Head of Auction House Beds & Bucks, said: "These figures represent another impressive performance by our 40 auction rooms across the country. Auction growth is continuing – particularly in regional sales rooms – despite the clear decline in estate agency sales nationwide.
"2018 has been a year of progressive growth for Auction House, and we have seen many buyers and sellers acting ahead of the distraction of Brexit. Certainly, no other property auctioneer in the country can match our sold figures of more than 3,200 since January – and we confidently predict that we will sell over 3,500 lots by the year's end."
Charles said that the auction method of sale is proving itself to be a better way to buy and sell property this year. He explained: "It's quick – sometimes taking as little as two weeks between instruction and exchange of contracts; it's certain – with the deal done as the hammer comes down; and it's transparent – with a level playing field for all buyers. Both sides benefit from the immediate contractual commitment that sale by auction delivers.
"Our regional auctions continue to be well attended and local buyers are still active, mainly purchasing for a purpose rather than immediate profit. There remains a shortage of property in many areas, rents are static or rising, and prices can be expected to move towards their long-term trend. In short, shrewd buyers taking a long-term view are seeing this as a time of real opportunity."
We are now taking lots for our February auctions in Milton Keynes and Luton. Call 01234 362899 to book a free auction appraisal.
Back to articles