Robinson & Hall have completed the project management for the conversion of a damp and dark basement to a light, airy and vibrant exhibition space at Bunyan Meeting.
The basement of Bunyan Meeting was formerly used for accumulated storage.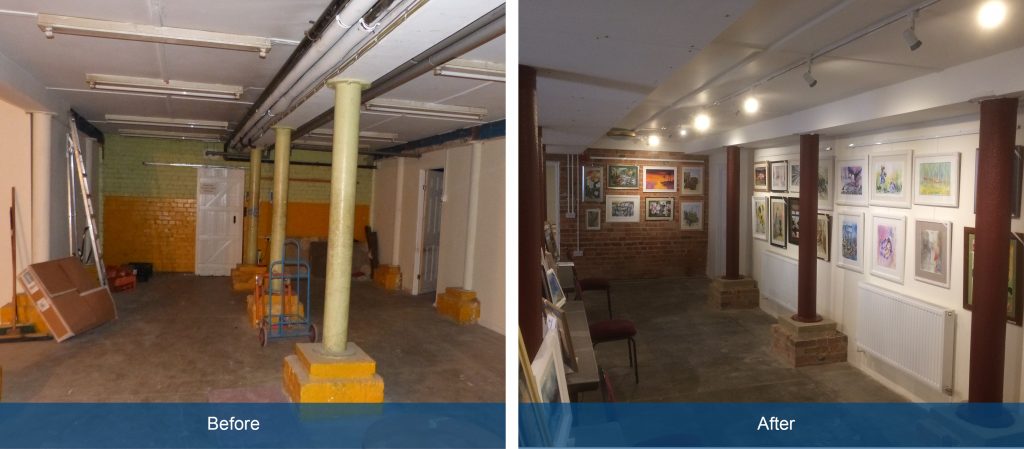 The refurbished space incorporates craft workshops for the restoration of books and flexible gallery space for exhibitions and for use as a meeting room.
Robinson & Hall were given the brief and carried out a measured survey, prepared a scheme and obtained Listed Building Consent, Building Regulations, working drawings, specification and obtained contractors tenders. We also project managed the construction works.
The works were of a traditional nature and included tanking of the basement to prevent dampness to the walls and the insertion of thermal insulation and heating.
The basement was completed in late September and is now open with craft rooms, an exhibition and meeting space, as well as a quiet area and refreshment corner. The basement at Bunyan channels the spirit of 'The Pilgrim's Progress' and focuses on the creative world of 'books'. David Sawford Robinson & Hall Building Surveyor and Partner commented "the conversion was carefully planned in consultation with the Conservation Officer to utilise the previous vacant space whilst preserving the character and charm of the Listed Building".
Chris Damp, the Minister of Bunyan Meeting, says "We're looking forward to seeing our basement full of folk exploring the wonderful world of books and bookmaking!"
If you are looking to convert a room in your commercial property or for further information about what our Architecture & Building Surveying department can do for you, please contact us.